Lowndes felt the victory was on at SuperNight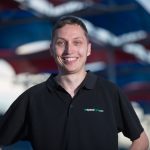 Craig Lowndes believes there was a real shot at securing a memorable win at the inaugural Red Rooster Sydney SuperNight 300 before the Safety Car hampered his chances.
The Triple Eight veteran produced one of the drives of the race as he hauled his Commodore from ninth on the grid to the lead during the third stint of the 77 lap encounter.
Lowndes led from early leader Scott McLaughlin as the pair made their final pit stops with 23 laps remaining.
McLaughlin, who required less fuel than his rival, jumped Lowndes in the pits but the latter was soon on his tail as the race reached its final stages.
However, the introduction of the Safety Car lap 58 for Todd Hazelwood's rear wing failure, hurt both Lowndes and McLaughlin as the interruption fell conveniently for Shane van Gisbergen and Jamie Whincup who were yet to make their final stops.
A tardy restart on older rubber left Lowndes in the firing line as both van Gisbergen and Whincup swept by, ending any hope of claiming a second win of the season.
"Oh definitely (there was a chance of victory)," said Lowndes.
"Between middle stints we've managed to sort of crawl back and get into contention with both Scotty and Shane.
"Our tyre life even then was really good. Scotty wasn't really pulling away too much, even with younger tyres, so we thought we'd have his measure to some extent.
"And even with the Red Bull guys, both Jamie and Shane passed him, he sort of came back to me a little bit  but then I started to struggle with the fronts, and then just wanted to bring it home and score points.
"It was definitely on for us right at the end. That Safety Car did hurt us, but oh well, that's the game. That's the way it is.
"I missed (the restart) a little bit but, Shane had a bit of momentum on me.
"And then, even with a fresher tyre he got the drive a bit better down on the ground than I did.
"To be honest, he's always going to be difficult to pass, and to be honest, I wasn't going to fight him."
Reflecting on what was a successful return of night racing for Supercars, Lowndes was a fan of the concept delivered by Supercars.
Prior to the race start he received an emotional standing ovation from the packed grandstand during the driver introductions as the crowd acknowledged the fan favourite, who will retire from full-time racing at the end of the year.
"It was (emotional). I think it was nice. To be honest, we were briefed about what was going to happen, but you don't really know until it actually happens," he said.
"It was really nice. I think that it was a more of a spectacle.
"They (Supercars) put on a good show. They did say that, once the leader comes down the main straight, there'll be a row of fireworks, which I caught the end of thankfully.
"It was great. The only thing it missed, and I've told the powers that be, that it needed a big ferris wheel (like Le Mans)."
A solid haul of points in Sydney sees Lowndes move up to fourth in the standings ahead of the inaugural OTR SuperSprint at The Bend Motorsport Park from August 24-26.