SVG: Fights with McLaughlin always hard but fair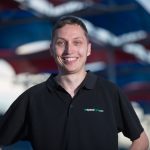 Shane van Gisbergen is relishing hard but fair battles with title rival Scott McLaughlin after the pair produced an entertaining scrap for the victory in the inaugural Red Rooster Sydney SuperNight 300.
The Red Bull Holden Racing Team driver ultimately prevailed under lights at Sydney Motorsport Park, but only after emerging from a titanic battle for the lead with championship leader McLaughlin in the #17 Shell V-Power Racing Falcon.
Pole-sitter McLaughlin had the edge over van Gisbergen for much of the 77 lap race before a Safety Car sparked by a wild moment for Todd Hazelwood who suffered a rear wing failure.
The stoppage fell brilliantly for van Gisbergen and team-mate Jamie Whincup as they pitted for fresh rubber.
It sparked a fascinating battle for the lead as McLaughlin, on older tyres, gave everything to defend his lead from a charging van Gisbergen.
The pair made contact on several occasions before van Gisbergen found a way through with 10 laps to go where he remained to take the win.
While it proved a heated battle on track, van Gisbergen says there is plenty of respect between himself and McLaughlin.
"It was an awesome race," said van Gisbergen.
"He did a great job with blocking, right on the edge of what's allowed and placed the car perfectly.
"I gave him a few hits, one was unintentional when I locked a brake but otherwise it was awesome racing and you could see he was placing the car in good spots at Turn 1, especially, to take the front aero away.
"I'd sort of just given up for a lap and thought I'd give my tyres a chance to cool down and then come back, and he hit the marbles there.
"All race, I think everyone would've been hitting them, normally it's light and you can see them and drive around them, but it was like a minefield, you'd hit them and shudder for a couple of corners and unfortunately for him he hit them at the wrong spot.
"I always enjoy racing with Scotty, the race is always hard but fair, we always have good fights."
Meanwhile, McLaughlin admitted he was gutted to lose out to his rival and miss an opportunity to claim the inaugural Sydney SuperNight 300.
He revealed post-race that the title fight was far from his mind with his full focus on trying to win the race.
"I wanted to win the first night race. I was trying my hardest," said McLaughlin.
"I knew that Shane, at the moment, we're the closest together. We knew we had a reasonable gap back and it was (Craig) Lowndes in fourth who was on the same amount of tyre as me.
"I felt like if I could just hold him back and maybe heat his tyres up… By the end of the race I'd realised I probably had no chance, but I gave it my best shot."
McLaughlin's championship lead has been cut from 131 points to 89 following van Gisbergen's victory on Saturday night.