Shattered Hazelwood recounts wild ride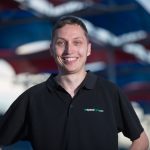 Todd Hazelwood was left shattered to see a potential season best result slip after a frightening rear wing failure at the worst point on the circuit during the Red Rooster Sydney SuperNight 300.
The Matt Stone Racing driver endured a wild ride when the rear wing departed his Falcon on the start/finish straight on the approach to the high speed Turn 1.
Hazelwood barrelled off the road at around 270kph, spinning through the gravel before he was able to gather up the car and rejoin the track.
At the time of the incident he was in 22nd position but in the thick of the action.
The Supercars rookie was warned about the wing failure by his engineer Wes McDougall who saw it from the television coverage moments before the braking zone, but it was too late.
Hazelwood was instructed to return to the pits where his team fitted a new rear wing before going on to finish the race in 23rd spot.
It was the latest in a run of bad luck the 22-year-old has endured this season, which has included a dislocated shoulder during a race at the Townsville 400.
"I saw the wing and saw the situation I was in so I knew it was going be a pretty wild ride," Hazelwood told Speedcafe.com.
"At first I thought I could get away with it but it really shows how much the aero is dependent on the rear of the car.
"I thought I could gather it up but then it went into a full spin. The next worry was hoping that I could keep it off the fence and keep it on the bitumen and wash off a fair bit of speed.
"It was probably the worst place on the circuit to have a wing failure.
"That has been the story of our season; nothing has really gone our way.
"I think I have run over someone holding black cat with a broken mirror.
"I can't seem to take a break lately and I just feel shattered for the whole team because they have worked tremendously hard at each event and it would have been nice to give them a result.
"I think we would have been on track for 14th based on our race pace."
Hazelwood says his team is unaware what triggered the failure but will launch a full investigation into the matter.
"I had a couple of hits in the rear during the race from a couple of people but nothing substantial," he added.
"It is nothing that would have put any energy into the boot lid which could potentially cause some harm to the wing. It is a mystery and the team will do a full investigation."
The South Australian will regroup before heading to his home state for the OTR SuperSprint at The Bend from August 24-26.