Buckled wheel costly for Coulthard at SMP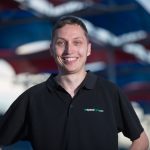 Fabian Coulthard's hopes of converting a front row start into a top 10 finish were hampered by a buckled wheel in the final stint of the Red Rooster Sydney SuperNight 300.
The Shell V-Power Racing driver initially struggled for pace in the first stint of the night race at Sydney Motorsport Park, dropping from second on the grid to fourth after the opening lap.
Having fallen away from race leader Scott McLaughlin and the two Red Bull Holdens of Shane van Gisbergen and Jamie Whincup, Coulthard emerged as one of the fastest cars on track in the second stint but was caught out by the timing of the Safety Car on lap 58.
However, the New Zealander was 10th in the closing stages but began to drop away in the third stint as a result of a buckled left rear wheel, thought to have been caused by running over the edge of a kerb.
Coulthard was then forced to nurse his car home in 11th spot while his opposite number McLaughlin finished third behind van Gisbergen and Whincup.
"We weren't fast enough in that first stint, but we tuned it up and made it better for the second and third stints and were able to put in good lap times, pass a few cars and make some ground," said Coulthard.
"After the Safety Car I went over the back of a kerb and it buckled the left rear wheel and then had to nurse it home. A little bit what might have been, but it is what it is."
Shell V-Power Racing Managing Director Ryan Story said the wheel issue restricted his driver in the final stint, admitting the left rear was 'well bent' and 'hanging in there' when the car returned to pit lane after the race.
"The Safety Car hurt him. In the first stint wasn't quite what we hoped to be," said Story, when asked by Speedcafe.com about Coulthard's drop off in pace.
"(In) the second stint he was the fastest car out there. Last stint, we don't know what's happened yet, but the left rear wheel rim has buckled.
"It's buckled all the inside, and the boys could see it when he was coming down the pit lane it had a very healthy wobble on it.
"He (Fabian) was calling and asking us to check that from pit wall during that last stint, to see what was going on there.
"He had a real funny feeling on the rear, he kept pressure, but it was well bent.
"So that accounted for the lack of speed in that last stint, but his race pace was very, very good otherwise, just it didn't quite fall his way when that Safety Car came up.
"I think he made the best of what he had beneath him.
"I don't think it was going to fail, but you never know. And until we have a good look at it, we don't know for sure, but it was just hanging in there."
Coulthard sits sixth in the championship standings ahead of the inaugural OTR SuperSprint at The Bend from August 24-26.