Supercars clarifies headlight rules ahead of SuperNight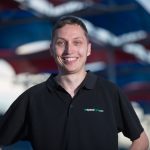 Supercars has made a tweak to its regulations surrounding the lighting of cars ahead of tonight's Red Rooster Sydney SuperNight 300.
The championship has issued a directive to teams confirming the orange light on the windscreen and side windows that denotes the use of super soft tyres must be illuminated if a headlight failure occurs.
Under no others circumstances should the orange light be used on track or in pit lane.
These are usually compulsory when super soft tyres are fitted.
The rule tweak arrives to further enhance the visibility of the cars to drivers should a car lose its headlights during the 300km race through a fault or contact.
It also means a car can continue in the race should a headlight failure occur.
Drivers said after practice that it was hard to see their rivals on track with the headlights being used as an important reference.
"The orange ID light must not be illuminated at any time the car is on the race track including the pit lane during Race 21 unless, in the instance of the cars headlight being non operational, in this instance the orange ID lights must be illuminated," read the new rule.
As previously expected, minor changes to the lighting of the circuit have been completed at Turn 1 and on the entry to pit lane.
Changes have also been made to the lighting of the section between Turns 5 and 6.
The Sydney SuperNight 300 is set to begin at 1920 AEST.