Jones: Ricciardo to Renault could be a good move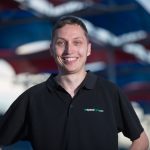 Daniel Ricciardo's shock move from Red Bull to the factory Renault squad for 2019 could prove a smart decision, says former Formula 1 world champion Alan Jones.
Renault confirmed last night that Ricciardo has signed a two-year deal with the Enstone squad in a switch that has stunned many after appearing set to extend his stay at Red Bull.
Ricciardo's surprise Red Bull exit sees the Australian cut ties with the squad that has helped him climb through the junior ranks to F1 in favour of a midfield team.
Since earning a promotion from Toro Rosso to Red Bull in 2014, he has scored seven race wins and a further 22 podiums.
Among those blindsided by the news is 1980 world champion Jones but after analysing the decision he believes it could prove a clever move.
"I think this Renault move has come out of left field," Jones told Speedcafe.com.
"I don't think many people were under the impression that Daniel was even talking to them.
"I thought the Mercedes and Ferrari doors were shut so logically I thought he would stay on at Red Bull, but maybe this is not such a bad move.
"Having said all of that I think it is the best alternative.
"Being with a factory team is as good as you'll get.
"I think if it wasn't Mercedes or Ferrari he has probably done the right thing because he probably needs a change from Red Bull.
"Psychologically he will have realised that they (Red Bull) are a bit more in favour of (Max) Verstappen.
"I think good on him and I think Renault will hopefully get better in terms of horsepower."
Since returning to F1 as a factory team in 2016 Renault's results have improved season upon season but the squad is yet to score a podium.
This season it sits fourth in the constructor standings well behind Red Bull with Ricciardo's new team-mate Nico Hulkenberg scoring a best result of fifth in the German Grand Prix.
Renault has long struggled to match its rivals in the engine department but has been making steady progress in that area.
While the team is not challenging for victories and podium yet, Jones is sure there is plenty of information behind the scenes that convinced Ricciardo that the team's performances will improve.
"I think it is going to be very interesting," added Jones.
"Like most things in motorsport he (Daniel) probably knows a few things we don't about Renault.
"I don't know what he has been promised in terms of engineers or development.
"At this point in time (I think) he would rather be with a factory team in Renault than with Red Bull that has the Honda engines."
Ricciardo's first race with Renault will be on home soil at the annual season opening Australian Grand Prix from March 14-17 next year.