Scene set for inaugural Sydney SuperNight 300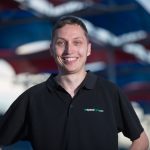 Final preparations for the inaugural Red Rooster Sydney SuperNight 300 have been completed as Supercars gears up for its first night race in Australia for more than 20 years.
The championship conducted one last lighting test at Sydney Motorsport Park on Thursday night prior to today's opening practice, which will take place under lights, ahead of Saturday's 300km night race.
Garry Rogers Motorsport's Garth Tander jumped behind the wheel of the championship's Porsche 911 Safety Car for laps to test the lighting produced by more than 50 floodlight towers that have been positioned around the 3.9km circuit.
Race director Tim Schenken, Deputy Race Director Michael Masi and Driving Standards Advisor Craig Baird also completed checks by recording laps around the track in a road car.
Tander, who is among a small group of drivers utilised for previous light tests at the venue, confirmed to Speedcafe.com that some minor adjustments have been made, but is more than happy with conditions for this weekend's race.
"Being here with all the lights on, it's good," Tander told Speedcafe.com.
"Myself, Tim Schenken, Michael Masi and Craig Baird have been out looking around and there have been a couple of points where all four of us have agreed to adjust something.
"But in all reality it is very close and they are very minor adjustments.
"It is all fine. You could see everything you need to see and that was with low intensity headlights.
"There is going to be plenty of light, it is not going to be a drama.
"It is going to be exciting."
The long anticipated return of Supercars night racing will present a number of new challenges for both teams and drivers as they adapt to racing in the night.
Teams have been busily preparing for the race but admit it will be a meeting where they will have to adapt to variables on the run.
Tander revealed that his GRM squad has been simulating the conditions in its Melbourne workshop purely to test the lighting inside the cabin of it cars to ensure switches are visible and dash lighting is sufficient.
Tickford Racing has also briefed its drivers regarding its cabin lights while several teams have been working on lighting and visibility during pit stops.
Championship organisers have been told not to increase the brightness of headlights although LED lights are to be placed in the cockpit to assist with the lighting of the cabin area for the television broadcast.
Supercars has meanwhile tweaked regulations to allow teams to practice pits stops during today's 40 minute practice, which will be the only night time running the teams will have before Saturday night's race.
"Whenever you do something a bit different it is exciting," Tickford Racing co-owner Tim Edwards told Speedcafe.com.
"I think everyone is intrigued to see what it is going to be like under lights and see how the visibility is and how teams are going to cope with pit stops.
"They (Supercars) are allowing us to do pit stop practice (in Practice 1). The reality is we have got very little practice time so you have to get through a lot of stuff in that time."
The unique set of conditions has seen squads take advantage of the use of reflective stickers to show off sponsors under lights, with Brad Jones Racing and Erebus Motorsport among those to adopt the system.
Tickford has chosen a different method with a matte finish on the bonnet and doors of its cars in a bid to show off its logos.
Meanwhile, Supercars has invested plenty to improve fan engagement at the circuit with a spectacular pre-race show planned followed by a fireworks display set for Saturday evening post-race.
The event will kick off with a 40 minute practice session under lights on Friday before a further practice run on Saturday afternoon, ahead of knockout qualifying and the 300km race, set to start at 1920 AEST.