Lighting adjustments planned for SuperNight 300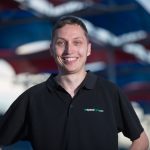 Supercars is expected to make minor changes to improve the lighting for drivers ahead of Saturday night's Red Rooster Sydney SuperNight 300.
The championship conducted its first competitive session under lights courtesy of a 40 minute practice designed to help drivers and teams adapt to the conditions ahead of the 300km race.
Fifty lighting towers installed at Sydney Motorsport Park to light up the 3.91km circuit were tested for a final time on Thursday night ahead of opening practice on Friday.
On the whole the session proved to be a success although it is understood drivers have asked for the lighting to be enhanced on the entry to Turn 1, while there have been requests to further highlight pit entry.
Commenting after the session drivers admitted it was challenging to pick out reference points particularly heading into the high speed Turn 1 left sweeper.
Supercars officials inspected the lighting situation at Turn 1 following Practice 1.
The championship's technical director David Stuart told Speedcafe.com that he expects there to be minor changes made before Saturday's race.
"I thought it was reasonably good. Obviously you don't know what you have got until it gets dark," Stuart told Speedcafe.com.
"The teams all seem relatively happy with the light they have got to work with in pit lane.
"We have had a couple of request to add some additional lighting to highlight the pit entry a little more which we will do for tomorrow night.
"We can't put a tower there so what we will do is we have got lights attached to the pedestrian fence in pit lane and they stop prior to the control tower.
"We will run them further up past the control line and we will add some additional lights to the debris fencing on the TV compound.
"As far as the circuit goes, there is one area there that a few drivers have mentioned that they would like more light.
"We are out there now to see what we can do about that.
"I don't know," he added when asked what they could do at Turn 1. "The light people are down there; it may be an additional light tower."
Chaz Mostert, who topped opening practice, admitted it was good that the drivers' opinions had been noted but revealed the lighting in some areas needed improving.
"That's always good that they're acceptable to change and that the driver's opinion is noted, it's quite nice to be a part of a series that do that," Mostert told Speedcafe.com.
"(There are) Just a couple of little exits here and there needed to be lit a little better because you just can't quite see Turn 1.
"It is what it is, you kind of guess it around there, it's going to be fun, different aspect, I'm looking forward to it."
Drivers will return to the track for Practice 2 (1320 AEST) ahead of knockout qualifying before the 300km night race which is set to start at 1920.