Drivers revel in 'million miles per hour' night practice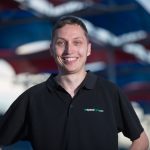 Drivers have described piloting a Supercar at night as 'wild' and like travelling at a 'million miles per hour' following the opening practice session under lights at Sydney Motorsport Park.
The field took to the track for a 40 minute outing as many of the drivers received their first taste of night time running in a Supercar in anticipation for Saturday night's 300km race.
Fifty lighting towers have been installed to light up the venue which is hosting the first Supercars night race on Australian soil for 21 years.
Championship leader Scott McLaughlin, who is among a group of drivers yet to race a Supercar at night, hailed the experience as 'wild' and the 'coolest thing' he'd ever done.
"That is wild, it's the coolest thing I've ever done, seriously," said McLaughlin, who did some night time running in go kart prior to the weekend to aid his transition to the conditions.
"Down the back chute into Turn 1, you're like, 'this is a bit faster than a go-kart' and into one the first couple of laps, I missed my markers and I was a bit caught off guard by it all."
Walkinshaw Andretti United driver Scott Pye echoed Mclaughlin's view on the increased sensation of speed.
Pye ended Friday practice in second spot behind pacesetter Chaz Mostert.
"You're driving in the dark and it feels like you're going a million miles per hour," said Pye.
"The track is cold as well, which always feels nice, and the engines run better.
"I know Turn 1, you're turning flat there anyway. Trying to pick a marker there and see the edge of the track is a little more difficult, but it's pretty good fun.
"You end up being kind of a fan again, you're watching the replays on TV of the cars blowing flames, and the reflective stickers when you're behind them. It's a cool thing to be involved in."
Although he topped the times, Mostert revealed the session was a real challenge for drivers.
"You don't get a judgement of speed when you're in the patches of dark," said Mostert.
"All of the sudden you come flying into the light and try and jump on the brake pedal at a big stop corner and it's quite exciting.
"It's pretty tricky, because you miss your judgement a little bit. It's a good challenge, it was good fun out there."
Drivers will return to the track for Practice 2 (1320 AEST) ahead of knockout qualifying before the 300km night race, which is set to start at 1920.