TCR Australia set for 2019 launch after CAMS approval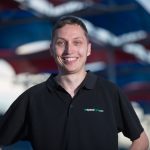 TCR Australia is now gearing up for its inaugural season next year after the Confederation of Australian Motor Sport (CAMS) formally approved series promoters the Australian Racing Group (ARG).
ARG was revealed as the promoter for the new national touring car series having been selected by CAMS but the deal has only now been officially completed.
The new category management business is owned by a consortium of businessmen and is spearheaded by Matt Braid, the former Managing Director for Volvo Cars Australia and the Supercars Championship.
The group also holds the commercial and management rights for the proposed Super5000 single seater series also earmarked for a 2019 launch.
Confirmation of the deal means the popular TCR format, built around two litre, four cylinder turbo charged touring cars, will welcome a new continent to its growing portfolio, which includes four international and 12 national series.
Calendars are yet to be secured with the series hoping to feature on the Shannons Nationals program and on the support bill at Supercars events.
ARG expects the new series to begin in late 2019.
"We are thrilled to confirm Australian Racing Group as the category promoters for TCR in Australia and look forward to seeing them hit the ground running," said CAMS CEO Eugene Arocca.
"This is a very exciting development for motor sport in Australia and already the interest in TCR has been very promising, from both a competitor and manufacturer stand point.
"We look forward to seeing TCR start off strong and go from strength-to-strength as TCR makes its mark on Australian motor sport."
ARG director Braid added: "TCR has proven itself to be an extremely popular, exciting and successful category in many countries around the world, and we look forward to working with competitors, manufacturers and event promotors to successfully launch the TCR series in Australia."
Brainchild of the TCR regulations Marcello Lotti has described the deal as a landmark moment for the category, which was formed in 2014.
CAMS signed a five-year agreement to host a TCR series in Australian in January.
"We have been absolutely delighted, earlier this year, to sign a deal with CAMS for launching a TCR series in Australia, said Lotti.
"CAMS is the driving force behind the success of Australian motor sport, and their involvement is a guarantee of a bright future for TCR Australia.
"Now that this new series has been definitely scheduled to start in 2019, we can't wait for the opening event.
"It will be a landmark moment for TCR that lands on a fourth continent after Europe, Asia and the Americas, where TCR series have already been successfully established.
"This also represents a great challenge, because touring car racing is hugely popular in Australia and the local motor sport fans are enthusiastic and competent.
"We are confident that they will soon learn to love TCR just as has happened with their fellow fans across the rest of the world. We wish the Australian Racing Group success in launching and promoting TCR Australia."
The category has proved to be a hit with marques globally with Audi, Hyundai, SEAT, Volkswagen, Ford, Alfa Romeo, Honda, Kia, Lada, Opel, Peugeot, Renault, Skoda, and Subaru, all having developed bespoke TCR cars that can be purchased for around $200,000.
While manufacturers are not allowed to run full factory efforts they are encouraged to support entries.
A number of marques including Audi and Hyundai have been closely following the development of TCR Australia with bosses from the former holding talks with CAMS about the series in February.
TCR Australia has begun negotiations with local teams and manufacturers.
Melbourne Performance Centre is already involved in tentative discussions with Audi Australia regarding involvement, having secured the rights to import and run Volkswagen Audi Group TCR cars.
The race team has an example of an Audi RS3 TCR at the workshop which Audi sent to Australia last year for promotional activities.
CLICK HERE for more from CAMS CEO Eugene Arocca and ARG director Matt Braid.
VIDEO: A taster of what TCR will bring to Australia