Pye: Little things important for racing at night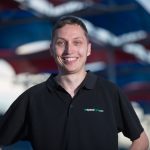 Scott Pye says adjusting to the minor details of night racing will be important as he looks to build on his recent Supercars success in the conditions this weekend.
The Mobil 1 Boost Mobile Racing driver scored a breakthrough Supercars victory at Albert Park in what has been labelled the last unofficial night race given the twilight encounter was largely run in dark and gloomy conditions.
Pye is hoping the contest will serve as a platform to build on in regard to the challenges the drivers will face heading into the inaugural Red Rooster Sydney SuperNight 300.
The South Australian revealed following the victory that coping with the brightness of cabin lights was one of the factors he had to contend with on his way to a maiden Supercars win.
"I'm really looking forward to the SuperNight," said Pye, who heads to Sydney after a disappointing Queensland Raceway that yielded finishes of 16th and 19th position.
"The last race that finished in the dark is one I'll never forget, so another result like that would be nice.
"Adjusting to the little things was important during that race and will be again heading in to the weekend. It's the stuff you usually don't have to think about like the brightness of dash lights and the sponsor screen in the middle.
"QR was disappointing but we've got to move on from it pretty quickly. This race is crucial in terms of points, so a strong showing is really important."
Likewise, his opposite number James Courtney also boasts a strong record racing under lights having taken out Supercars' last night race at Abu Dhabi in 2011.
The 2010 Supercars champion took part in the most recent lighting test at Sydney Motorsport Park prior to this weekend's race
"This event is going to be cool. Back in my hometown, under lights, it's going to be awesome," said Courtney.
"I did a light test there not long ago, and the visibility is great for drivers and great for fans, so it's going to look great.
"300kms is a long race where a lot can play out, so it's going to be very interesting to see how it all unfolds, I can't wait."
The event will kick off with a 40 minute practice session under lights on Friday before a further practice run on Saturday afternoon, ahead of knockout qualifying and the 300km race, set to start at 1920 AEST.