Extras tyres made available for SuperNight 300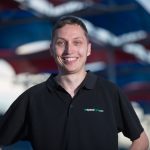 Supercars teams will benefit from an extra set of tyres per entry for this weekend's Red Rooster Sydney SuperNight 300.
A move to increase the allocation for the event at Sydney Motorsport Park has been relayed to teams this week.
Originally 16 super soft tyres were made available but this has increased to 20 tyres given the increased running expected this weekend.
Supercars announced plans to expand the running for the teams following the introduction of the knockout qualifying system and the decision to run a practice session under lights on Friday night.
The extra 104 tyres have been sourced from a batch that had been earmarked for possible wildcards at this year's Winton SuperSprint of which there were none.
An increase in rubber will be welcomed by the teams with Sydney Motorsport Park known to be tough on tyres.
This weekend will also see drivers do battle in a 300km race on Saturday night which is the longest distance for a single driver event this year.
"We had tyres for four wildcards for the Winton event that didn't eventuate and they were the same build as the tyres for Sydney Motorsport Park, so we will be able to utilise those and provide an additional set of tyres," Dunlop's Supercars Operations Manager Kevin Fitzsimons told Speedcafe.com.
"They (the teams) can utilise their hand back tyres too so they have actually got 20 tyres for qualifying and the race, so its actually good from that perspective."
The event will kick off with a 40 minute practice session under lights on Friday before a further practice run on Saturday afternoon, ahead of knockout qualifying and the 300km race, set to start at 1920 AEST.