Supercars teams to adapt on the run at SuperNight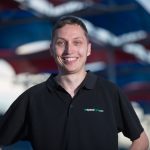 The Red Rooster Sydney SuperNight 300 will force teams to react and adapt on the hop as they adjust to racing at night, according Nissan Motorsport team manger Scott Sinclair.
Supercars will host its first night race on Australian soil for 21 years this weekend when the championship heads to Sydney Motorsport Park for a special 300km race under lights.
The concept is rarely experienced by Supercars teams with the championship's last night race arriving in 2011 at Abu Dhabi.
With 300 points on offer to the winner, the SuperNight has taken on an increased importance in the championship, which will see teams leaving no stone unturned in their preparations.
THE FINAL RACE OF THE 2023 REPCO SUPERCARS CHAMPIONSHIP ON ONE OF THE WORLD'S BEST STREET CIRCUITS. GO ALL IN AT THE VAILO ADELAIDE 500, CLICK HERE TO BUY TICKETS
Sinclair says his outfit has been busily preparing for the unique race meeting but expects the conditions to catch operations off guard, prompting last minute visits to hardware stores to make tweaks to set-ups in pit lane to cope with the decreased visibility.
"There will be a lot of things that won't get thought of," Sinclair told Speedcafe.com.
"We will just have to deal with that. After Friday night I think there may be a few trips to Bunnings Warehouse from all the teams just reacting to a few things that will come up.
"It is great and this is all part of it. Race teams are built around adapting to unique situations.
"We have got to get the basics right but it is an opportunity to get an advantage.
"Lighting is the obvious one. You take it for granted when the sun's out as you can see everything so there are a number of things outside of the garage that need to be addressed but at the same time I think all the teams will be thinking along the same lines.
"We have a few guys at the team that have done the Le Mans 24 Hours before so we will use their experience from that."
Triple Eight team manager Mark Dutton says his squad has been working behind the scenes on a number of items to ease its experience in Sydney.
Given the weight of points on offer, the race is one where minor details could prove beneficial, which is why his operation has focussed on eliminating potential issues.
While refusing to go into detail on its projects in preparation for this weekend, Dutton says it is important to be ready for the conditions.
"You definitely have to finish that race. It is double points, double jeopardy," Dutton told Speedcafe.com.
"So, no matter what, you need to finish it. Being 300 kilometres, that gives you time to repair more complicated damage; now we hope we don't have that.
"We're working on lots of different things.
"We've been working on clinical things that could seem like not a big deal for months.
"Just getting things in the pipeline, everything coming through at the right time. But we don't have opportunities to test them.
"We have all these ideas and solutions you hope that cause less drama than what they fix.
"Inside the car, the drivers, the pit crew, the pit lane, you need to review everything because we don't do these very often at all.
"The last thing you need is one little hiccup that you didn't think of to catch you out. And it also gives you opportunity to do a better job with something new than your competitors.
"It is pretty exciting, and it'll be really interesting."
The event will kick off with a 40 minute practice session under lights before a further practice run on Saturday afternoon, ahead of knockout qualifying and the 300km race, set to start at 1920 AEST.