Ricciardo happy to end eventful Hungarian GP on a high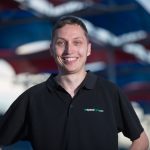 Daniel Ricciardo admitted he was happy to finish on a high at the Hungarian Grand Prix after a turbulent run in recent races.
The Red Bull ace produced a driver of the day performance as he scythed his way from 12th on the grid to fourth after an eventful race at the Hungaroring.
Ricciardo entered the weekend off the back of a retirement at the German Grand Prix and his fortunes didn't get any better after being caught out in a wet qualifying that saw him eliminated in Q2.
The Australian dropped to 16th at the start after Sauber's Marcus Ericsson made contact with Ricciardo's left front at Turn 1.
However, Ricciardo luckily avoided significant damage and was able to quickly pick off rivals to climb back into the top five.
He was then involved in a dice with Mercedes Valtteri Bottas which saw the Finn run into Ricciardo while the latter attempted a move to grab fourth late in the race.
Ricciardo was forced off the road but managed to fight back and pass Bottas on final lap.
"It was nice to finish on a high," said a relieved Ricciardo to Sky Sports F1.
"I feel it's been a few races where I haven't really been happy, so it's nice to get a good one today.
"Start was hectic, got beaten around a little bit and then managed to fight our way through, so that was fun with Valtteri as well but got him on the last lap, so that felt better."
Bottas was later issued a 10 second time penalty for his clash with Ricciardo but remained in fifth spot.
Reflecting on the move, Ricciardo felt he had left more than enough room for the pair to round Turn 1 without contact.
"For sure I feel I did all I could, I gave him enough room, but I guess with the damage he went in pretty hot," he added.
"It was definitely over the top but I wanted still to get him back on track as opposed to wait for a penalty."
Ricciardo remains fifth in the championship standings heading into Formula 1's mid-season break.