Bright ready for Pirtek Enduro Cup chance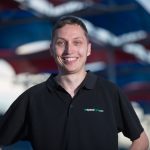 Jason Bright is confident he will be ready to slot into a Supercar again after receiving a late Pirtek Enduro Cup call-up with Preston Hire Racing.
Last week the single car team elected to draft Bright into its enduro driver line-up alongside primary driver Lee Holdsworth, replacing Matt Brabham in the process.
Bright was set to be on the sidelines for this year's enduros ending a 21-year streak after failing to land a drive for the Rabble.club Sandown 500, Supercheap Auto Bathurst 1000 and Vodafone Gold Coast 600 races.
After retiring from full-time Supercars racing last year, the 45-year-old has been absent from the cockpit since, electing to focus his motorsport efforts on driver coaching and race engineering.
Despite being away from competitive action for eight months, Bright believes it won't take long to familiarise himself with Supercars machinery.
The former Tickford Racing driver is not expected to receive a full test day prior to the Sandown, but is set to drive the ZB Commodore for the first time at a Sydney Motorsport Park ride day next week.
"It is the longest I have been out of a racing car in my whole career," Bright told Speedcafe.com.
"I don't think there will be any dramas there but it would have been nice to do a couple of test days and the co-drivers sessions like all the other co-drivers.
"I don't think it will take too long to get up to speed.
"At this stage I know there is a ride day at Sydney Motorsport Park and there is talk of a couple of other runs but who knows?
"At least I will have Sydney where I will hope to do as many rides as possible.
"We will see what happens between now and Sandown."
Bright is however looking forward to making a return, revealing that he hadn't fully given up on securing a drive at Bathurst once all the co-driver slots had been filled.
"I hadn't given up on trying to be on the grid this year at least at Bathurst, whether it was a wildcard of some sort," he said.
"I had a hope of being able to pull something off there.
"Although I haven't missed the driving as much as what I had expected to, I was still keen to do those three races for sure and continue on a do a bit more racing next year."
Bright admits the opportunity to drive has come in unfortunate circumstances and feels sorry for Brabham who he has replaced.
"I feel for Matty. It is tough when you don't get the amount of miles that you need. I feel for him because I'm sure he was looking forward to it," he added.
"It is not hard to underestimate the amount of miles you will need in the cars when it is as competitive as what it is.
"Most of the co-drivers out there are doing miles in other series or have been previous drivers in the category.
"I feel pretty lucky to end up on the grid after probably not making the right moves to secure a drive."
The Pirtek Enduro Cup begins with the Rabble.Club Sandown 500 from September 14-16.