Driver, marshal hospitalised after huge Spa crash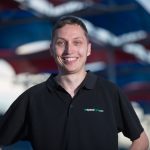 A driver and marshal have been taken to hospital following a frightening crash during a Lamborghini Super Trofeo support race at the 24 Hours of Spa.
Race leader Fredrik Blomstedt suffered contact from a rival car which sent him careering into the barriers, near to a marshal post, at high speed on the run from Pouhon to the Fagnes chicane at the Spa-Francorchamps circuit.
The violent impact saw marshals scatter to avoid debris from the destroyed Lamborghini.
Organisers SRO have confirmed that the driver and four marshals were injured.
Blomstedt and one marshal have since been taken to hospital, their injuries are believed to be not life threatening.
"This morning, during the Lamborghini Super Trofeo support race ahead of the Total 24 Hours of Spa, a vehicle left the track at marshal post 12. Four marshals and one driver were injured in the incident," read a statement from SRO.
"All were immediately attended by the circuit medical staff. One marshal and the driver have been transferred to hospital for medical checks. However, their injuries are not life-threatening.
"Following a delay of 1 hour and 30 minutes, track activities have now resumed.
"SRO Motorsports Group, RACB and Circuit Spa-Francorchamps would like to thank all of those involved in the medical assistance that followed the incident. Furthermore, we would like to wish a speedy recovery to all of the marshals and the driver involved."
The 24 Hours of Spa main event is due to begin at 0030 AEST.