Tickford set to roll out engine upgrades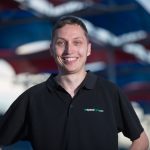 Tickford Racing is preparing to implement engine upgrades on its cars ahead of next weekend's Red Rooster Sydney SuperNight 300.
The Ford squad has been working hard to close the gap to the front runners after struggling for pace and consistency in what has been a difficult campaign to date.
A significant part of the team's development plan has been focussed around its engines with upgrades set to be ready for the visit to Sydney Motorsport Park next week.
Tickford co-owner Rod Nash told Speedcafe.com at Queensland Raceway that its engines were being homologated following the completion of the update.
He reiterated that improving the engine side of the Falcon package is a complex process governed by Supercars regulations.
The squad successfully rolled out engine upgrades prior to last year's Sandown 500 which triggered a strong final quarter of the 2017 season.
This season has yielded only two podium finishes including Chaz Mostert's third place at Queensland Raceway last weekend.
"Yes we'll start implementing it now," Nash told Speedcafe.com, when asked if the engine upgrades will appear in Sydney.
"Engine stuff is not that easy to do because we have data to work to, so it's not just chucking in power, you're not allowed to do that, so it's very complex."
Nash expects the updates to be rolled out car by car which will be carefully managed.
"It's not just car by car. You've got your existing engine program and like all the teams you bring your upgrades in and you just don't chuck everything out," added Nash.
"We need to manage that but at the same time we are in motor racing and there is no substitute for horsepower, so when you get it you want to put it in very quickly.
"Also because our parity rules and front end set-ups and all that kind of thing, a little bit of power in the right area can change all the geometry of what you see on the track too.
"Once you've got it you need to put it in because it can take the heat off on some of your set-up in the cars."
"There are two key components. The chassis is very complex in this set-up and the engines are controlled.
"They are two ships sailing down side by side and that's what makes the car and it's all nicely controlled by parity rules all the way around but you need the two together.
"You've got to keep advancing chassis technology, suspension and everything else and you have to keep advancing your engine stuff."
Tickford implemented varied set-ups across its four cars for Mostert, Mark Winterbottom, Cam Waters and Richie Stanaway in Ipswich as it looks to unlock pace from its Falcons.
It appears the squad is leaning towards the direction taken by Mostert's #55 car after an upturn in speed across the weekend.
The cars will return on track at the Sydney SuperNight 300 which begins next Friday with a practice session under lights at 1800 AEST.