VIDEO: Tickford preparing for Mustang Supercar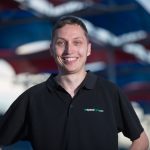 Tickford Racing has completed the build of a brand new chassis earmarked to be turned into a Mustang for the 2019 Supercars Championship.
The four-car squad is working alongside DJR Team Penske and Ford Performance in America to develop the Blue Oval's latest Supercar.
Tickford plans to build up another new chassis this year before converting two of its existing Falcons to Mustangs.
"The plan at the moment is we are building some new cars and we have built the roll cage to a point where we can take it off the jig while we still wait for some of the external surfacing to be done." said Tickford boss Tim Edwards.
"There is 500-600 hours work in building the shell up to that point.
"We have built one and pulled it off the jig and we are in the process of building a second one at the moment and we are also going to convert a couple of the other cars."
The all-new Mustang Supercar is on track to conduct homologation testing in late November/early December.
VIDEO: Tickford Racing gets ready for the Mustang