Ricciardo keen for more F1 races, less practice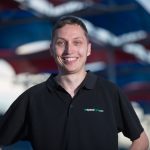 Daniel Ricciardo would be in favour of a radical format shake up in Formula 1 that removes practice sessions from the grand prix weekend.
F1 management has been keen to explore options to tweak its race weekend schedule, which currently features two 90 minute practice sessions on Thursday/Friday, followed by a 60 minute hit out on Saturday before qualifying and then the race on Sunday.
Earlier this month the possibility of adding sprint races to events was discussed by the F1 Strategy Group.
Widespread changes are being evaluated for 2021 by F1 bosses in bid to make the sport more attractive to fans and sustainable for teams.
Red Bull Racing driver Ricciardo is keen to see changes made to race weekends if it means that practice sessions are eradicated from proceedings.
The Australian admits that F1 should be careful with any additions it wishes to make.
"I'd prefer no practices and just Saturday, Sunday," said Ricciardo.
"Just qualify Saturday morning, race Saturday afternoon and race again Sunday. Less laps of nonsense and more laps of meaningful business.
"I want it to be serious, it is not the F1 everyone is used to, so you have to be careful with two races. But I like racing, I don't like practice so much.
"So, if it just meant that we could race more through a year, and do less practice, then that sounds good to me."
Ricciardo will return to action in this weekend's Hungarian Grand Prix less than seven days after a mechanical issue caused his retirement from the German Grand Prix at Hockenheim.
The 29-year-old, who won in Hungary in 2014, sits fifth in the championship standings, a point ahead of team-mate Max Verstappen.