No fuel economy concerns for Nissan at SuperNight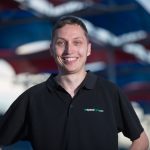 Nissan Motorsport is not expecting to face a battle with fuel economy as Supercars readies itself for the longest single driver race of the season at the Red Rooster Sydney SuperNight 300.
The Braeside operation has faced a deficit in fuel economy figures compared to its Holden and Ford rivals ever since the Altima was introduced in 2013.
Since the car's inception the squad has worked hard to close the gap and while progress has been made in the area it isn't quite on par with the championship's other brands.
Next weekend could pose challenge with drivers set to tackle 300km under lights without a 120 litre fuel drop, a rule that was introduced to help Nissan.
While a fuel drop will be absent from Sydney, the team will benefit from a compulsory pit stop rule which will require teams to make three stops during the 300km journey.
Following last weekend's Coates Hire Ipswich SuperSprint Rick Kelly suggested that he expects a big battle on fuel economy at Sydney.
"Sydney is going to be one heck of a challenging race. 300km is the longest we'll ever do as a single driver – it's 50km longer than Adelaide," said Kelly.
"As I understand it, there's no measured fuel drop, so there's going to be a big battle with economy as well.
"We've had good single-lap speed there recently, but we'll need to keep working on our race pace considering it is such a long event."
However, team manager Scott Sinclair believes fuel economy won't be a problem with any issues likely to be masked by the high tyre degradation expected at the circuit.
"I think the degradation will rule that out to be honest," Sinclair told Speedcafe.com.
"Despite it being at night I think it is an easy two stopper and I think it is a compulsory three stopper anyway.
"I think the tyre degradation negates the fuel economy anyway."
Given the unique event format that sees Supercars night races return to Australian shores for the first time since 1997, and a huge 300 points on offer for the winner, Sinclair says his team is leaving no stone unturned in its preparations.
"It is massive. If nothing else the drivers have got to drive 300km straight which they do at Bathurst but that is a bit different with the longer straight, so it is going to be a challenge for them," Sinclair added.
"The points on the line are massive and we probably haven't had the kind of event earlier in the year before.
"We will quickly shift our focus on the importance of that. We have only got one shot at it.
"If we do a good job then things will look pretty good heading into the enduros.
"There is obviously a lot of other potential distractions given that it is going to be at night and how much effort and time you put into that and getting the basics right is something all the teams will be faced with.
"We have got to be smart with how we use our time over the next four days."
The Red Rooster Sydney SuperNight 300 will begin on Friday with a 40 minute practice session held under lights at 1800 AEST.