DJRTP set for unchanged driver line-up in 2019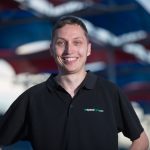 Shell V-Power Racing is set to continue with an unchanged driver line-up for next year, according to Team Penske president Tim Cindric.
Cindric confirmed to to Speedcafe.com that he expects Fabian Coulthard and Scott McLaughlin to continue as its duo into 2019.
McLaughlin has proved the dominant force since joining the team at the start of last year which has continued into this season with the 25-year-old Kiwi recording seven wins.
On the other side of the garage Coulthard has struggled to match his team-mate which has raised questions regarding his future at the squad.
However, Cindric doesn't foresee any change to his driver-line up or the structure of the team.
Coulthard penned a new contract last year although the team has elected not to reveal the terms of the deal.
"They've done a great job. I don't see anything changing on that front," Cindric told Speedcafe.com when asked about his team's line-up for next year.
"They've done a really good job for us and we've got a slow start out of the box with the #12 car. But he's capable of doing it if we give him the right car and everybody does our jobs.
"I think as long as we look at ourselves objectively, we'll get where we need to be. So now I don't foresee any changes there.
"As an organisation, our strategy is probably a two car organisation for the foreseeable future.
"I don't really see anything different on that front.
"You'd love to run a wildcard someday somehow but not as a sideshow."
Coulthard has had to deal with an engineer change for this season which saw him partner with Mark Fenning after splitting with long time engineer Phil Keed.
After winning four races last year the experienced Kiwi has only one to his name at Winton in May.
However, Cindric is confident the team on the #12 car will continue to gel as the season progresses.
"I think a lot of it's circumstantial, but the majority of what we can control is just our qualifying spot," he added.
"The racing's been good. We've let him down a few times in the pits and a few other places.
"But at the same time, when you look at where he was this year versus last year, he's done a good job of keeping his head down and there was a point where he was outside the top 10 there for a little while, and now he's fought his way back up to sixth.
"The guys have stayed together and as long as I think we look at how we improve together rather than single out one thing here or there, I think that'll continue to make us stronger."
Coulthard is currently sixth in the championship standings.