Cindric: Mustang Supercars project on track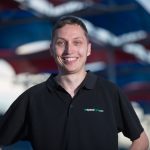 Plans to develop a Ford Mustang Supercar for next season are on track for its homologation at the end of the year, according to Team Penske president Tim Cindric.
Work to bring the Mustang to life is well underway, led by Ford Performance in America with assistance from Supercars teams DJR Team Penske and Tickford Racing.
The process to create the Blue Oval's hero car into a Supercar is reaching its next crucial phase that will see the manufacturing of parts commence in the coming weeks.
Cindric says the project is reaching an exciting moment as it edges closer to its planned late November/early December homologation testing target.
THE FINAL RACE OF THE 2023 REPCO SUPERCARS CHAMPIONSHIP ON ONE OF THE WORLD'S BEST STREET CIRCUITS. GO ALL IN AT THE VAILO ADELAIDE 500, CLICK HERE TO BUY TICKETS
It expected that eight Mustangs will feature on the grid next year fielded by DJRTP, Tickford Racing, 23Red Racing and Matt Stone Racing.
"Engineers will go move the deadlines as long as they can move them to try and optimise what they have, and that's their job, but it's to the point now where we met last week about what are the next steps," Cindric told Speedcafe.com.
"We have to start freezing certain parts of the car; obviously you work backwards from the lead times and the production and so forth.
"Right now I think it's the stage where the surfaces are really close to being finalised and I think in the next week to start commissioning tooling for that type of thing, but start trying to stay on track for late November, early December homologation.
"I think we're still on track for that. It is exciting when you see the surfaces and that type of thing. You know it's a Mustang for sure.
"I would say it's on schedule depending on whose schedule you're looking at.
"But I don't think anybody's ready to panic yet.
"We just finished the homologation with the approval process of the NASCAR Cup car and it always comes right down to the wire and you'll take as long as you have."
Since the project was announced in April, there has been talk the Mustang body would need to be stretched to fit the Supercars control chassis.
Cindric admits there has been some compromise in that area but is confident the end product will stay true to the famous Mustang shape.
"I think that there was some talk about all that in the beginning," he said.
"It was agreed upon by all the technical folks that the rules exist for a reason in terms of the size of the chassis and what it is, and most of that's a safety constraint and a visual for the driver and so forth.
"And when you look at it, there was an easy way out if you will, and it just takes a little bit of creativity to make it right.
"You have a little bit of compromise relative to the street car, but I think at the end you're going to look at it and say 'that looks like a Mustang'.
"We're really excited as Team Penske because we're also bringing a Mustang in at the (NASCAR) Cup level, so next year we'll be fielding three Mustangs across the Xfinity Series, the Cup series, and now Supercars.
"All are a little bit different, but all are the same in terms of the way in which they were formed."
While homologation testing is still at least four months away, both Shell V-Power Racing and Tickford Racing are already preparing for the arrival of the Mustang.
DJRTP is converting a Falcon chassis which will be the first Mustang while Tickford has completed the build of a brand new chassis.
A further is due to be built while two existing Falcon chassis will be coverted to Mustangs.