SVG: Sydney SuperNight 'most important race of the year'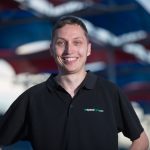 Shane van Gisbergen has described next weekend's Red Rooster Sydney SuperNight 300 as arguably the most important single driver event of the year.
Carrying the most points per kilometre in this year's championship, the inaugural SuperNight 300 event at Sydney Motorsport Park is being tipped as a potentially season defining meeting.
A total of 300 points will be on offer for the winner of the 300 kilometre race which will be the first time the championship has raced under lights in Australia since 1997.
Van Gisbergen will head to Sydney with a 131 point deficit to championship leader Scott McLaughlin as the title battle begins to heat up.
With so many points at stake in one race, the 2016 champion believes the event will prove to be a crucial moment in the championship.
"It's probably the most important race of the year, single-driver event, 300 kilometres, 300 points," said van Gisbergen.
"It's up there, on how important the race is, it's a big wildcard.
"We need to be on it there. I'm glad they made it the long track, the short one would've been boring as anything but the long track's going to put up a good fight.
"It'll be an awesome event, I'm really looking forward to that."
Championship leader McLaughlin echoed van Gisbergen's sentiments regarding the importance of the race.
Unlike his Red Bull Holden Racing Team title rival, who has contested night races in both Supercars and GT machinery, McLaughlin has very limited experience in that area.
However, the Shell V-Power Racing Team driver feels prepared for his first Supercars night race.
"There's a lot more points on offer, but like Shane said, it's very important. It's a bit of a wildcard. But I feel like we're prepared and we've always gone reasonably well," said McLaughlin.
"I am excited about our car pace but it is going to be a wildcard with temperatures and what you're going to do at pit stops and all that sort of stuff. It's going to be cool."
The Red Rooster Sydney SuperNight 300 will begin with a 40 minute practice session under lights on Friday at 1800 AEST.
On Saturday the field will take part in a practice session before a return of the knockout qualifying system, ahead of the 77 lap night race.