Nissan GT-R returns to Australian GT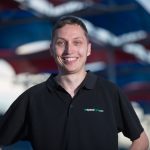 Hobson Motorsport will join the Australian GT Championship with its Nissan GT-R at Sydney Motorsport Park next weekend.
The Sydney-based team had intended to compete in the championship last year before its plans were curtailed by accidents involving both of its Nissan GT-R GT3s at the 2017 Liqui-Moly Bathurst 12 Hour.
It has been a long road to recovery for the operation which purchased the cars from America in 2016.
Former Dunlop Super2 driver Brett Hobson will take the wheel of a Hi-Tec backed GT-R for the Australian GT Championship sprint round at the Red Rooster Sydney SuperNight 300 from August 3-4.
It is the first time a Nissan GT-R has raced in the championship since November 2016 when Kelly Racing fielded an entry.
The event is a one-off at this stage although the team is helping to become a more regular future on the Australian GT grid in the future.
"We wanted to compete in an Australian GT round all along, but funds just didn't let that happen prior to now because of the massive loss at the (Bathurst) 12 Hour, and having our first baby," explained team boss and Brett's partner Laura Hobson.
"Sydney Motorsport Park is our home track, so we liked the idea of having our family and friends able to share the meeting with us.
"We have a lot of local support so it's also a nice way to involve them at a track close to home."
The squad conducted a test with the repaired GT-R GT3 at Sydney Motorsport Park last week to prepare for its championship debut.
"The car's never run at Sydney Motorsport Park so there's no data or point of reference," explained Hobson.
"On the whole the car was pretty good. There are a few things we need to adjust to make it a bit more driver friendly, but the car is suited to a flowing track and SMP is pretty well that.
"We're hopeful that the car will be at the pointy end, but it's an unknown track for the car, so we shall see."
The penultimate round of the Australian GT Championship season will see the field tackle three 40 minute races.