Supercars to review practice tyres proposal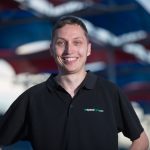 A proposal to increase the tyre allocation for teams in 2019 is set to be discussed by the Supercars Commission, Speedcafe.com has learned.
It is understood the move could see an extra two sets of Dunlop control tyres per round issued to each entry on top of the prescribed 108 total sets for race weekends this year.
This would effectively eliminate the use of worn rubber in practice sessions when teams are forced to preserve tyres throughout the season through the use of tyre banks.
Tyre banks and the lack of quality rubber for practice and testing has long been a hot topic among teams and drivers.
The new proposal, to be reviewed today, would follow the format used for flyaway events such as New Zealand, where entries are issued with all new event allocation of rubber, as quarantine laws prevent the transportation of used tyres.
Fresh tyres for practice would allow teams to receive accurate feedback from cars, provide a clearer form guide for fans and assist rookie drivers in speeding up their learning process.
Teams would no longer transport pre-marked sets from tyre banks to events.
The concept would then help improve tyre quality for testing with outfits able to theoretically purchase sets specifically for test days only.
Supercars squads can currently purchase 16 soft and 16 super soft tyres for testing and practice at the start of the year.
The implementation of the current tyre bank system was signed off by the Supercars Commission as a way of cost containment for the teams.
However, it is understood Supercars benefits from a relatively cheap deal for its Dunlop control rubber compared to rival categories.
An increase in tyre allocation for the season would come at an extra cost to the teams, albeit a small proportion of the overall race budget.
Last weekend's Coates Hire Ipswich SuperSprint saw the tyre situation resurface with drivers highly critical of the current format.
"The tyre situation is absolutely ridiculous," said Chaz Mostert after Friday practice.
"You don't know if you're chasing tyre or car (in practice). It's really tricky."
Speedcafe.com spoke to several teams regarding the proposal with the majority in favour of paying extra to ensure better quality rubber was available for practice and testing.
"It is (time things changed). We have literally the cheapest tyres in motorsport for a mainstream category," Triple Eight team manager Mark Dutton told Speedcafe.com.
"Compared to some categories, we're half the price per tyre.
"The fact that we don't have just new tyres, when you turn out, then we're not best utilising what's a very affordable part of what we do.
"It's more expensive to run the cars than it is to put those tyres on, so it is something that hopefully can be looked at.
"We can't just throw money around here. It is precious and hard to come by but I think we do need to, sometimes review. Is it time for a change? I believe the answer is 'yes'.
"I think the commentators would love it, and the fans, and TV.
"That's one of the big driving things as well, so that fans, and reporters can talk about all of Friday's practice, knowing that everyone started on the same tyre."
Brad Jones Racing boss Brad Jones say all teams would be in favour of more tyres, but keeping costs contained is an issue that should not be overlooked when considering an increase in allocation.
"Look everyone would love to have a green tyre every time they run out of the pits to start a session," Jones told Speedcafe.com.
"But the problem is we get a certain amount of tyres allocated to us, we have to pay for them, they all come out of our budget.
"It would be pretty hard for those that don't have that ability to spend as opposed to those who do.
"I think what we have is fair but it is tough and at some of the race meetings you get to, you're running on rags. It's unfortunate.
"It would be better in lots of ways because you're always on a good tyre but would it actually improve the show? I'm not convinced."
One car team Matt Stone Racing already receives additional tyres by virtue of having a rookie driver in Todd Hazelwood.
The operation would be prepared to adopt the proposal and believes there are other areas where costs can be saved instead of limiting tyres.
"I mean, as the new kid in town in terms of Supercars, I'm very much just 'go with the flow' on the political side of things, but from the racing point of view I think we would never be the team that would say no to more tyres," team owner Matt Stone told Speedcafe.com.
"There are better ways to save costs than limiting performance factors like tyres and brakes."