Reynolds not giving up on slipping title chance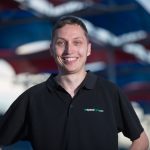 David Reynolds admits his Supercars title hopes are slipping following the Coates Hire Ipswich SuperSprint but will ultimately reserve judgement until after the enduros.
The Erebus Motorsport driver has dropped to fourth in the standings after exiting the weekend at one of his bogey circuits with a pair of seventh place finishes.
Reynolds felt he was on course for top five results in both races after qualifying third and fifth but was unable to display similar pace in the race.
"We were one of the fastest Holdens (in qualifying), but in the race, it just didn't come our way," Reynolds told Speedcafe.com.
"It's a really, really difficult track. It looks boring and it is boring, but it's just difficult.
"I thought I was on for one of my best results ever, but it turns out, no.
"This would probably be one of our weaker tracks we go to.
"Last year, qualified like 12th and 15th. It was no good. This year, I'm third and fifth, so we ticked that box. We've improved a lot, but just the race pace we have to make better."
The 33-year-old, who has scored two wins this year, is now 483 points adrift of championship leader Scott McLaughlin but is refusing to give up on title just yet.
"It (the championship) is slipping, but you never really know how you sit until the end of the enduros because there's so many points I can grab," he added.
"If the other cars have dramas or have bad results, even though that's probably highly unlikely given the level of the teams these days, we're back in the hunt.
"But we're still proud, we're still fourth. We're still going better than we were last year.
"There's only a prize for first, but it's a good sign that we continue to improve as a team.
"We're not perfect by any means, but we're getting better."
Reynolds is however looking forward to the next round at the Red Rooster Sydney SuperNight 300, which offers the highest amount of points per kilometre of racing during the season.
"We've got to try and claw that back as much as we can," he added.
"The next couple of races should suit our car and our car performance.
"Sydney Motorsport Park should be good for us.
"Tailem Bend, I'm really looking forward to that, it's a grouse bit of track, really looking forward to that.
"Then we go Sandown, Bathurst, and it's sort of the run home for the end of the year. It's all upwards from here, I think."
The championship heads to Sydney Motorsport Park for Round 10 on August 3-4.