Light at the end of the tunnel for Tickford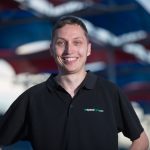 A podium for Chaz Mostert has offered Tickford Racing hope it is edging closer to returning as a front running force in Supercars.
The Ford squad has endured a desperately poor run of form this season with its four cars struggling for pace and consistency.
Prior to the weekend the perennial championship contenders had scored a solitary podium at Barbagallo Raceway in May.
The outfit has been forced to test and trial set-ups across its entries at race events to find answers to its performance shortcomings.
The Coates Hire Ipswich SuperSprint saw Mostert and team-mate Richie Stanaway show top 10 pace as the former qualified in the top three for both races, albeit before a grid penalty demoted him to fifth for Race 19.
Mostert capitalised on the speed to finish third on Sunday to end a personal podium drought that stretched back to October last year.
The result arrived after a sixth on Saturday provided a much needed confident boost for the team which co-owner Rod Nash hopes they can build on.
Meanwhile, Stanaway qualified 14th and 10th before delivering results of 12th and 18th, the latter affected by steering damage.
"(It"s) always good for a podium. It felt like a win. When you just experience the levels of flatness (we have) getting any form of podium is great," Nash told Speedcafe.com.
"The four cars were sort of up there. Chaz qualifying third was good, Richie was next and then cars #5 and #6 were sort of midfield, but we don't want to keep making excuses because we need to be up there with the other two tribes (Triple Eight and DJR Team Penske).
"But it still sort of puts it into perspective.
"Jamie (Whincup) qualified seventh and has done a gazillion miles around here. So it just shows still how competitive category is.
"But we're still working through nothing in particular but just a whole heap of the road back.
"I think we're just hanging in there, but as in still being competitive and that's the main point.
"We've got to keep your eye on the ball still.
"You know, we still had the whole of next weekend and we've still got four cars varied, as in pace and speed.
"So, there is light at the end of the tunnel, but we're still just marching along, and still not where we want to be.
"We've just got to keep the wheels on the car, and we've just got to keep working at getting to a uniform (state).
"We've got to get that uniform across all four cars."
Mostert shared the view when discussing the relevance of his podium in regard to the squad's bid to recover from its form slump.
He feels the outfit will have turned a corner when all four cars are at the pointy end.
Tickford ran varied set-ups across its cars with Mark Winterbottom and Cam Waters both struggling for pace from their packages.
Winterbottom recorded a best finish of 20th while Waters could only muster a 17th in Sunday's race.