Whincup confident T8 has answers for Penske at QR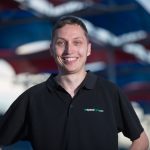 Jamie Whincup is confident Triple Eight has an answer for the dominant pace shown by Scott McLaughlin and the Shell V-Power Racing Team for the conclusion of the Coates Hire Ipswich SuperSprint.
The reigning champion finished fourth in Saturday's Race 19 which was comfortably taken out by championship leader McLaughlin from pole position.
DJR Team Penske had the edge over its championship rivals in qualifying after locking out the front row although Triple Eight fought back in the race.
Whincup, who started sixth, followed home team-mates Shane van Gisbergen and Craig Lowndes, who completed the podium after qualifying eighth and 10th respectively.
Reflecting on the pace shown in the race, the 35-year-old believes his team can take the fight to the Shell Fords in today's 200km heat, but admitted its qualifying performance must improve.
"I think so, there is not much in it," Whincup told Speedcafe.com, when asked if Triple Eight has an answer for McLaughlin.
"The track will change and you can make a small tweak, and boom you can find lots of time around here.
"We need to do a better job in qualifying but we need a faster race car as well.
"There is plenty to do and it is all part of the challenge."
The view is echoed by team manager Mark Dutton, who is fully aware that his cars cannot afford to give the Shell Fords a head start in qualifying.
"We had strong cars and managed to make up ground (on Saturday) but in this game you cannot afford to be that far back and make it up," Dutton told Speedcafe.com.
"Scotty (McLaughlin) and the Penske boys are a class act and if you give them a headstart you are not going to catch them.
"We are pretty confident if we are starting alongside (them), we would have been rubbing doors.
"Our main focus is to understand why we missed the mark in qualifying when the writing wasn't on the wall."
Ascertaining its qualifying shortfall is not the only area being investigated by the team and Whincup in particular.
While van Gisbergen enjoyed a lightning start to climb from eighth to fifth by the first corner in Saturday's race, Whincup has struggled to get off the line well in recent races.
Van Gisbergen credited his impressive starts to a new system developed by Triple Eight for his car.
The team were expected to make changes to the #1 Red Bull Holden Racing Team ZB Commodore in a bid to fix the issue for this afternoon's race.
"Until Townsville (Jamie) has been doing cracker starts so we are working hard to try and understand what has happened," added Dutton.
"There hasn't been any componentry change so there is no reason for the loss of performance (in the starts).
"We have got some ideas to try but we will inspect everything in the car."
The Coates Hire Ipswich SuperSprint continues with Armor All Qualifying at 1040 AEST.