WAU dealing with friendly fire incident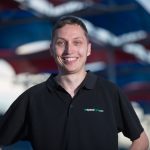 Walkinshaw Andretti United has held talks with its drivers in a bid to avoid a repeat of the friendly fire incident during Race 20 at Queensland Raceway.
James Courtney suffered heavy damage to his Holden ZB Commodore after becoming involved in a multi-car clash involving team-mate Pye and Mark Winterbottom at Turn 4 on the opening lap of the race.
Pye dived down the inside of Courtney before side-to-side contact occurred, which then resulted in Winterbottom being turned in the process.
Winterbottom suffered a broken rear anti roll bar while Courtney was not classified in the results after being forced to undergo repairs in the pits.
The two team-mates were at odds regarding who was to blame for the incident.
Stewards investigated the clash before deciding that neither driver was wholly or predominately at fault.
"I don't know what Scott was thinking, just pushed into the back of me, and then me into Winterbottom," said Courtney.
"It was a very silly thing to do first lap, with your team-mate, on a 200km race."
Pye added his version of events: "He (James) ran off at the exit of (Turn) 3 and was going slow up to Turn 4 and left a car and a half or whatever on the inside, so I put it down the inside.
"I don't know. I didn't lock a wheel or anything like that.
"Obviously it's a real shame because it's ruined the day, lost a lot of team points and now we've got some bummed out people."
Co-team principal Mathew Nilsson has since sat down with his drivers and will continue to work through the process internally to ensure it doesn't happen again.
"We have spoken(with the drivers) and we have started the process already. It is just one of those things that you don't like seeing," Nilsson told Speedcafe.com.
"Fundamentally we have had some conversations and we will keep working with them."
Pye went on to finish the race in 19th position in what proved to be a challenging weekend for the team, with Courtney's eighth in Saturday's Race 19 the highlight.