Stewards issue 10k fine and points penalty to Erebus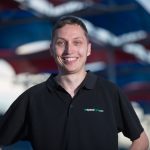 Stewards have issued Erebus Motorsport with a hefty fine and a points penalty for a pit stop infringement during Race 19 of the Coates Hire Ipswich SuperSprint.
Officials investigated a fumbled pit stop for Anton De Pasquale during Saturday's race that saw the team attempt to release the car while work was being carried out on left front wheel.
The mechanic attending to the wheel was briefly knocked to the ground but appeared to be uninjured during the stop on lap 15.
Following an investigation Supercars officials have confirmed to Speedcafe.com that the team has been issued with a $10,000 fine with $5,000 suspended until the end of 2019.
The team has also been hit with a deduction of 30 Teams' points.
Erebus Motorsport remains in fourth in the championship standings.