Mostert determined to turn around season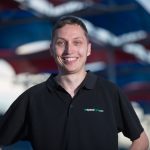 Chaz Mostert says his sole focus is on turning his season around as he looks to exploit positives recently uncovered from the Tickford Racing package this weekend at Queensland Raceway.
Plagued by a lack of pace and consistency, this year has proved to be a dismal campaign for Mostert and perennial title contenders Tickford Racing.
The 2014 Supercheap Auto Bathurst 1000 winner is yet to stand on the podium this year, lying ninth in the standings and the best performer from the four car Ford squad.
Aggrieved to be out of the title hunt, the 26-year-old remains determined to bounce back and has reason to believe the tide is turning following a strong finish to the Watpac Townsville 400 last time out.
Having resorted to testing in public at race events to find solutions to the Tickford Falcon's shortfalls, Mostert scored his first top five since Phillip Island in April in Race 18.
"I'm a very short term goal person and I want to turn this year around as quick as possible," Mostert told Speedcafe.com when asked about his commitment to the team.
"That is my only focus at this stage.
"I honestly believe my engineer Adam (De Borre) is one of the smartest guys in pit lane and have got really good guys around me and there is no reason why we can't get back to scoring good results this year.
"Townsville was a big turnaround, the race car was very good.
"We can only do what we can for this year and control ourselves to try and make our car competitive and the FGX is still fast. It is leading this championship (through Scott McLaughlin).
"We have just got to lift the bar.
"As a team we are working harder than ever and we are all trying to make the best thing come together.
"I think once we get the car back into the window we won't have to change as much."
Accustomed to regularly contending for podiums and race wins, Tickford's struggles have proved frustrating for Mostert and his team-mates and the entire operation.
Frustrations boiled over for Mostert during the Saturday race in Townsville, which was triggered by an unfortunate double stack in pit lane after Mark Winterbottom suffered a sudden tyre failure.
It sparked an out of character rant on team radio from the Gold Coast-based driver.
On reflection he admits it wasn't the best look, but believes it shows just how passionate he is to the cause.
"I think the frustration on Saturday in Townsville shows how passionate us drivers are," he added.
"We live every lap. To me, the frustration was just blowing off some steam, there was no real merit behind it.
"I feel a bit silly for doing it now but at the time you are just trying to vent a little bit.
"We haven't had the results we wanted this year and sometimes it can tip you over the edge."
Having now put Townsville to one side, Mostert has cause for optimism on two fronts this weekend.
Although Tickford were not among the contenders for the race win and podium in Townsville, there were noticeable improvements in race pace across its four cars.
Also the team, and Mostert in particular, has shown strong form at Queensland Raceway after the driver in question recorded a victory and a second place finish last year.
While it's difficult to predict how the squad will fare 12 months on, there is genuine reason to believe Queensland Raceway could provide an upturn in form.
"We are looking forward to going to Queensland Raceway as it has been a happy hunting ground there in the past," he said.
"It is another opportunity to get more data and see if we can get can get some better results.
"Overall it is good to see that the cars are being adaptive to change now. We have got to keep going down that path. There is no silver bullet however.
"I was excited to have good race pace for once considering how we have struggled in general.
"It is good to have some years where I have raced (well) at Queensland Raceway because where we are now and the direction we want to go, there is some really good data we can dig out of the archives to try and hit the ground running."
The Coates Hire Ipswich SuperSprint begins on Friday with the Additional Driver practice season at 1010 AEST.