Holden won't influence Lowndes replacement decision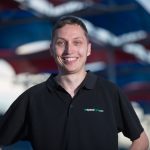 Holden says it won't have any influence in determining who will replace Craig Lowndes at factory team Triple Eight next year.
Triple Eight is yet to confirm plans for 2019 following confirmation its stalwart Lowndes is retiring from full-time Supercars racing at the end of the year.
Although yet to announce it will retain its three car set-up next year, the identity of Lowndes' replacement has been a hot topic in the paddock.
Nissan Motorsport's Simona de Silvestro has already been tipped among others to fill the seat which would coincide nicely with Holden's wishes to field a female driver in Supercars that were highlighted earlier this year.
However, new Holden marketing boss Kristian Aquilina says the decision to replace Lowndes will be solely down to the team with Holden playing a backseat role in the process.
"In the end, it's going to be up to the team to determine who the best driver is for the job for whatever the team objectives are," said Aquilina.
"They've got to find the right driver for the job, so we'll leave it at that in terms of Roland and Triple Eight determine where they take that.
"It offers them a tremendous opportunity to explore a whole range of areas. But it's up to them.
"At some point I'm sure we'll be brought into it. But they're driving this, and good on them.
"They'll work out what's best to suit what their team objectives are. We're one of many sponsors."
Holden's factory Supercars deal with Triple Eight will enter its final season of a three-year agreement next year.
While discussions to extend the arrangement are yet to be held, Aquilina has confirmed this week that the brand is committed to motorsport and its supercars program with the new ZB Commodore.
The support comes amid a series of management changes at Holden which has seen Aqulina only take up the marketing role from predecessor Mark Harland in April.
Yesterday the marque announced that former Toyota Australia president Dave Buttner will take over as managing director and chairman of Holden from Mark Bernhard.
"It's a bit early to discuss that (an extension of the deal with Triple Eight). We've got a great relationship with Triple Eight, and they're doing a fantastic job of representing the Commodore," added Aquilina.
"It's all positive discussion at this stage.
"But it's too early for that. I'm only a few days in the role, so we've got a lot to work out.
"We're enjoying our current relationship and we believe we can do more with them in the context of the existing relationship.
"It's quite positive. The opportunities are fantastic with the other partners on board with that team. I look forward to exploring that more."
Holden has won 10 of the 18 races thus far in this year's Supercars championship with its new ZB Commodore.