Richards committed to co-driving beyond 2018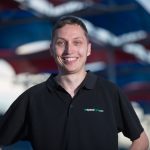 Steven Richards is not prepared to walk away from co-driving next year should he lose a drive at Triple Eight following Craig Lowndes' full-time retirement from Supercars.
Richards has partnered Lowndes at Triple Eight since the 2014 Pirtek Enduro Cup but his position at the squad could come under threat in 2019 which may see him back on the co-driver market.
Co-driving opportunities could be limited at Triple Eight next year with Lowndes set to take one of the spots as part of his role as an ambassador for the operation.
It has been suggested that he could line up alongside Jamie Whincup which would then see Paul Dumbrell potentially lose his spot.
Meanwhile, Whincup's team-mate Shane van Gisbergen has been partnered by Alex Premat (2016), Matt Campbell (2017) and for this year welcomes Earl Bamber.
The team is yet to confirm its 2019 co-driver plans including its setup for the third car vacated by Lowndes, which is currently piloted by Richards for the enduros.
Richards has proven to be a valuable co-driver highlighted by Bathurst 1000 victories in 2013 (Mark Winterbottom, Tickford Racing) and 2015, alongside Lowndes at Triple Eight.
The 46-year-old is unsure where his future lies on the co-driving front at Triple Eight but is adamant he has plenty to offer for future enduros.
He does however admit that if opportunities dry up at Triple Eight he is prepared to consider other teams.
"I love it, to me it's not a free ride, it's a big effort, one of the reasons why I still have formulated a very serious racing program in my own right," Richards told Speedcafe.com.
"I really do enjoy stepping up every year and driving those cars, and I love the pressure of it.
"I love every element of when I'm in the car. I love the fact that I've got to be competitive against young guys, for sure, I'm not ready to walk away.
"But, I don't want to just go and do it to say I'm going to do it.
"I want to find the right product that enables me to still achieve and get good results and practice. I know I still can bring a lot to the table for those teams that want a good solid co-driver.
"I really enjoy the Triple Eight environment, but it will depend on what happens to the third car and what happens down the path.
"I mean you've still got PD (Paul Dumbrell), still there, he still loves driving just as much as I do, that's testament to why he does Super2. And he's probably closer within the Triple Eight family than I am."
Switching his focus to a final campaign alongside Lowndes, Richards expects the Sandown 500, Bathurst 1000 and Gold Coast 600 races to be particularly special experience, but one that will carry increased pressure to deliver.
"We've got a great enduro campaign coming out, it's going to be unbelievable being a part of that whole process of seeing the fans sending Craig off and there'll be a bit of pressure on to get a result but I love that," he added.
"The pressure's always there. I go in with a mentality that the pressure's as high as it can be every year, and do the best you can.
"There's a perception from being our last year and all that sort of stuff, but it's no different for me."
Richards will jump aboard the #888 Commodore at Queensland Raceway in Friday's Additional Driver practice session at 1010 AEST.