Formula Ford to be celebrated at Bathurst 12H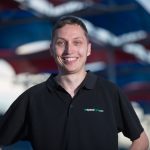 A special event to mark 50 years of Formula Ford racing in Australia is planned for the 2019 Liqui-Moly Bathurst 12 Hour.
A grid of Formula Ford 1600 cars is set to combine with Historic Formula Ford competitors to celebrate the category's contribution to Australian motorsport.
The popular single seater platform will become the fourth support series to appear at the expanded January 31-February 3 Mount Panorama event.
It will join the Combined Sedans, Group S Historic Sports Cars and the Radical Australia Cup.
"Bathurst will be the start of a year that will celebrate 50 years of Formula Ford racing in Australia and to commence it at such a high profile event is a huge boost for the category," said Formula Ford Association representative, Phil Marinon.
"The mixture of more modern Formula Ford 1600 and Historic Formula Ford competitors will showcase much of the remarkable history and both the Formula Ford Association and Historic Formula Ford Australia clubs are delighted to have the opportunity to race at the 12-Hour to commence a year-long celebration of the class."
Event Director Kurt Sakzewski believes the open-wheel category will prove to be a strong addition to the meeting's support program.
"In expanding the support category component of the event, we were careful to select a significant category that would enhance the on-track offering to spectators. In a milestone event for Formula Ford, we are confident we have found that," said Sakzewski.
"A full grid of cars from multiple eras is sure to produce sensational racing and showcase the great history of the class."
Last week organisers confirmed the first official entry for the 2019 Bathurst 12 Hour courtesy of Swiss Aston Martin squad R-Motorsport.