Lowndes adamant retirement was his decision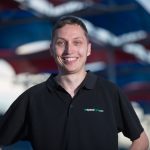 Craig Lowndes has reiterated that the decision to retire from full-time Supercars racing was his amid claims he was pushed from the Triple Eight team.
The six-time Bathurst 1000 winner shocked the paddock and fans by announcing plans at the Watpac Townsville 400 that he will revert to a co-driver role next year at the Brisbane powerhouse operation.
There has been a wave of questions from Supercars fans questioning the background behind the decision give the sudden nature of the move.
Lowndes maintained throughout the weekend that despite having a contract for 2019 it was the right time to step away from full-time driving.
Last week Erebus Motorsport driver David Reynolds told Fox Sports' motorsport podcast that he felt Lowndes was pushed out of the team.
"When you watch (his retirement press conference), it's so clear he is being half-pushed out, or pushed out entirely," the reigning Bathurst 1000-winner told the FOX Motorsport Supercars Podcast.
"But, just judging by his body language, by what he says, he never really said it was his own idea, he always referred to 'Roland, the team and I' made the decision and it was clear cut for me."
However, Lowndes has moved to quash the speculation by taking to social media on Sunday night.
"Ok let's set the record straight. I told you when the time would come you'd hear it from me direct," read a post on Lowndes' official Facebook page.
"As I said, it was a hard decision to make but it was MY decision. Let's get on with it, to celebrate and finish the year on a high."
Lowndes will return to action at this weekend's Coates Hire Ipswich SuperSprint.