Dutton: No fourth title for Lowndes 'tears us apart'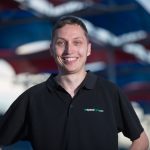 Triple Eight team manager Mark Dutton says it 'tears him apart' that the squad has been unable to provide a thus far elusive fourth Supercars title for Craig Lowndes.
The multiple championship winning operation, owned by Roland Dane, has one last chance to help deliver a title for Lowndes who will retire from full-time Supercars racing at the end of the season.
Since joining the team in 2005 Lowndes has finished runner-up in the championship six times and has finished outside of the overall top four once in that period.
After winning his last of three crowns in 1999, Lowndes' most recent shot at the title was in 2015 when he finished 238 points behind Mark Winterbottom.
He also came perilously in 2006 when he was pipped by Rick Kelly in a controversial finish at Phillip Island, before finishing second only to team-mate Jamie Whincup from 2011-2013, who was then engineered by Dutton.
Dutton says Lowndes' impending full-time retirement has prompted the team to push even harder to help the 44-year-old in his bid to go out on a high with a fourth title.
Lowndes is currently fifth in the standings albeit 431 points behind leader Scott McLaughlin.
"We've been going hard all year, but we're going to step it up. Everyone respects him," said Dutton.
"It would be a dream come true to give him a championship in his final full-time drive.
"That's the only thing we haven't been able to give him in his time with Triple Eight, and it tears me apart that we haven't been able to give him that.
"We'll be working hard all year. There are numbers that make it very difficult, but we don't worry about that. We'll go hard and it will sort itself out."
Dutton was race engineer for his first five championship and also held the role on an interim basis during a form slump on the way to his sixth in 2014.
"I was only a part of the whole collective. Believe it or not, we've always worked together," said Dutton of his partnership with Whincup.
"We've always been tight knit. I've never kept anything away from, whether it was JJ (previous engineer Jeromy Moore) and CL working or people do, don't worry, in other teams. But I don't think I can take any of that credit, I was just a cog in the machine."
While Lowndes has so far been unable to add to his championship titles, has has won five Bathurst 1000s and become the first driver to reach 100 championship race wins at Darwin in 2015.
However, Dutton, who has been apart of the Triple Eight organisation since the beginning in 2003, says Lowndes' impact on the squad over the years has been pivotal to the team becoming a Supercars powerhouse operation.
"When we were the little engine that could, when we were a small team trying to be legit, trying to get some trophies, even when we went from Briggs to Triple Eight we were still nobodies," said Dutton.
"When Craig joined the team, it was a massive leap of faith from him.
"Good on Roland for being able to see what Triple Eight would be able to do. It gave us a level of respect straight away in the paddock that someone of his stature would join the team.
"It was a pretty proud moment when you're a small team that hadn't had much success, to then get that person.
"Everyone stepped up at the time, and wanted to work harder and harder to show that he made the right call. It definitely was a turning point for Triple Eight.
"I don't think we'd be where we are without him being part of the team at all."
Lowndes' final full-time Supercars season continues at this weekend's Coates Hire Ipswich SuperSprint