CAMS ratifies Australian GT takeover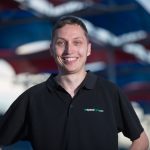 The Confederation of Australian Motor Sport (CAMS) has formally ratified the takeover of the Australian GT Championship by Trofeo Motorsport.
CAMS has today confirmed that the Category Management Agreement (CMA) has now been transferred from Tony Quinn's Australian GT Sportscar Group Pty Ltd to Trofeo Pty Ltd, owned by businessman Jim Manolios.
The current agreement is set to expire at the end of 2020.
Australian GT confirmed the deal had been completed last week which sees the championship change hands for the first time since 2011.
Manolios has been associated with the series as both a competitor and as Australia's official importer of Pirelli tyres.
"We are really looking forward to some great racing and seeing a further increase in the interest in the GT categories across Australia," said Manolios.
"There is a significant level of support both at corporate and fan level and we are thrilled to be playing such a big role in the CAMS Australian GT Championship, CAMS Australian Endurance Championship and the CAMS Australian GT Trophy Series."
CAMS CEO Eugene Arocca said the CAMS Board has approved the change of ownership and believes the series is set for a bright future.
"This is an excellent outcome for the sport and teams," said Arocca.
"All competitors and fans should be excited about what lies ahead for GT racing in Australia.
"Already this year, there has been plenty of interest in the various GT categories through our improved live stream on the Shannons Nationals, as well as at other high profile motor sport events where the GTs have been a key feature.
"We look forward to working with the Trofeo team to ensure an even more exciting product in the years ahead.
"Tony (Quinn) has done an outstanding job with the GTs and we congratulate him for his hard work. We look forward to working with Jim and the Trofeo team who have some exciting plans in the months and years ahead."
CAMS has confirmed current category manager Ken Collier will continue in his role under the new owners.
The Australian GT Championship continues at the Red Rooster Sydney SuperNight 300 from August 3-4.