The Grand Tour test driver pushing for Supercars run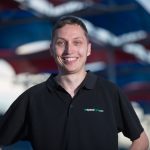 The test driver from hit motoring show The Grand Tour is actively pursuing an opportunity to build a future career racing in the Virgin Australia Supercars Championship.
British racing driver Abbie Eaton is probably best known for testing hypercars for Jeremy Clarkson, Richard Hammond and James May around the 'Eboladrome' test track on Amazon Prime's The Grand Tour.
However, the 26-year-old has forged a name in the UK's thriving national motorsport scene and is looking to expand her horizons in Australia and Supercars in particular.
Eaton has been a long-time admirer of the series while climbing the club racing ranks in England.
THE FINAL RACE OF THE 2023 REPCO SUPERCARS CHAMPIONSHIP ON ONE OF THE WORLD'S BEST STREET CIRCUITS. GO ALL IN AT THE VAILO ADELAIDE 500, CLICK HERE TO BUY TICKETS
The Silverstone racing school instructor has won the 2014 Mazda MX5 Super Cup title and was victorious in the Amateur class of the Blancpain Endurance Series at Monza last year, driving for top Ferrari GT outfit AF Corse.
It was also in 2017 that she landed the test driver role on Series 2 of The Grand Tour where she replaced former NASCAR Cup driver Mike Skinner.
"I have the ultimate dream of racing in Supercars and ever since I was little whenever I saw it on the television I was never able to walk past it without sitting down to watch," Eaton, who is working to secure funding to return to racing next year, told Speedcafe.com.
"I know a lot of people want to go down the GT route as it is easier to get drives but Supercars is where it is at.
"It's one of the most competitive championships in the world and it would take me time to find my feet, but the cars and circuits look incredible. It is everything you could want from a championship and a car.
"I think having her (Simona de Silvestro) in the championship and also that she is a female is really cool.
"Whatever championship I jump into I want to be in the top there and be battling the front runners and I have been able to do that.
"I think I put it down to having taught myself. Back when I started racing that wasn't the way like it is now (with driver coaches) and I couldn't afford it anyway. You have to work that little bit harder for it that way."
Eaton revealed that she sent a letter to Holden and Triple Eight earlier this year following the revelation that the former was interested in fielding a female in a Supercar.
"When that (Holden story) came about I was straight onto it and I wrote a letter to Mark Harland (former Holden marketing boss) but he ended up leaving," she added.
"I put something on social media and a lot people seemed to get behind it.
"I'm not daft to think that if there is me and someone with backing sat in the bank then they are obviously going to pick the driver with funding.
"But it would be cool if there were to look at the bigger picture and invest in someone that is up and coming a bit like Lewis Hamilton.
"If I can just across to Australia and maybe test something then that would help too."
While she has driven some of the world's most desirable cars through her role on The Grand Tour, Eaton is yet to to experience a modern V8 Supercar.
The nearest she has come to driving one is a replica Peter Brock VH Commodore, owned by her father, which she will race at next weekend's Silverstone Classic meeting.
Eaton admits the next step in her quest would be to make a trip out to Australia to test machinery or to move to the country to work through the lower ranks to establish a name.
"There are a few people that we have met along the way that are keeping their ear to the ground and listening to see what is going on and if there are any avenues we can tap into," she added.
"It would be a dream to move across to Australia and race in one of the support series and try and create a profile and get up to doing Supercars.
"You never know what can happen and you have got to get your name out there.
"It is certainly on the list and come and have a chat to a few people."
This weekend Eaton will be behind the wheel at the annual Goodwood Festival of Speed.
Speedcafe.com will broadcast the event via a live stream.