Holdsworth focussing on salvaging season not future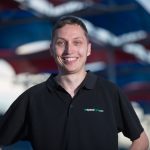 Lee Holdsworth is yet to begin discussions regarding his future in Supercars as he focusses on salvaging something from a dismal season to date.
The Preston Hire Racing driver has described his campaign as a 'shocker' so far which has been blighted by a lack of pace and consistency from his ZB Commodore.
His struggles have been reflected in the results with Holdsworth yet to break into the top 10 on raceday, his best finish an 11th in Race 7 at Symmons Plains.
The issues appear to surround extracting the best from Dunlop's new 2018 tyre and in particular fresh rubber.
THE FINAL RACE OF THE 2023 REPCO SUPERCARS CHAMPIONSHIP ON ONE OF THE WORLD'S BEST STREET CIRCUITS. GO ALL IN AT THE VAILO ADELAIDE 500, CLICK HERE TO BUY TICKETS
Holdsworth is in the final year of a his current two-year deal with the team which was announced in 2016.
Although out of contract, he says his future hasn't been a big focus with his mind set on turning around his fortunes this year.
"No one's happy running where I am at the moment, where our team is," Holdsworth told Speedcafe.com.
"But we've got such a great group of people, and a great little team, that it's an enjoyable place to be. But we need to get results.
"Charlie (Schwerkolt team owner) and I haven't really had discussions about that. And I haven't really looked into it too much.
"I've just been so focused on getting things right for this year. That (my future) hasn't been a huge focus of mine.
"I would love for things to work out with Preston Hire Racing. That's my sole aim at the moment.
"I would like to sort it (next year) out sooner rather than later. But I want to make sure that we're heading in the right direction as well.
"I guess, like any driver, we all want to get results, and be in a position to get results.
"But, at the moment, it's still quite early days.
"I suppose come Bathurst, I think that's always been about the time where drivers want to have their futures sorted."
Holdsworth has however seen some progress in answering the question surrounding his and the team's form at last weekend's Watpac Townsville 400.
The 35-year-old Supercars race winner returned results of 18th and 15th in the two races, but more importantly he believes the outfit has moved a step in the right direction on set-up.
"I was satisfied that we made some progress. Small progress, at that. But definitely a step in the right direction, which is what we haven't seen for quite some time," he added.
"This year, I think, the new tyre has really thrown a curveball at us. Obviously, being a one car team, it's very difficult for us to get on top of it.
"I think our whole team were really excited about coming into the 2018 season, given the way we finished 2017.
"And it's been a massive let down. But we can't all hang our heads.
"Everyone's trying as much as they can, and as hard as they can, and it's not for a lack of effort that we're back where we are. And it is just a matter of time, I'm sure, until we get on top of this tyre, and the balance.
"It's a big gap when you look at the time. The time that we need to make up in qualifying has been around, probably, six or seven tenths of a second. Whereas last year it was probably more like five and sometimes four.
"Although, it's a big time loss we've got at the moment, I think a small amount of improvement to the car will see a big lap time gain."
However, he feels there is still plenty of time to turn around his fortunes before the season is out.
Last year he scored five top 10 finishes from the final eight races.
"Look, it's not a complete write off, you've got half a season to go. And some pretty big races along the way that we'd like to have a go at," he added.
"Our aim has always been to take that next milestone for Preston Hire Racing, which is to get a podium. And, at the moment, that's out of reach, but we need to start taking those steps towards it again.
"And I'm sure that six months is enough time to be able to do that.
"We've actually got to understand why we're doing it, and if it works, understand why, because that'll be the only way that we gain some consistency and speed."
The Supercars field heads to Queensland Raceway for the Coates Hire Ipswich SuperSprint from July 20-22.