Australian GT announces ownership change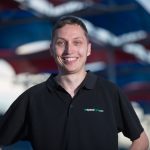 The Australian GT Championship has moved to confirm an ownership takeover by Trofeo Motorsport.
The announcement arrives less than 24 hours after the championship's former owner Tony Quinn told Speedcafe.com that the sale of the series to Jim Manolios and Trofeo Motorsport had been completed.
Quinn helped establish the category into a popular national series under his stewardship since 2011.
New owners Trofeo Motorsport have supplied Pirelli tyres to the championship through their role as Australia's official importer.
The outfit has also actively competed in the series through boss Manolios.
Australian GT has released a short statement to welcome new the rights holder, stating that it intends to develop a number of new initiatives in the future.
"Australian GT has entered a new era as Trofeo Motorsport becomes the rights holder to the CAMS Australian GT Championship, CAMS Australian Endurance Championship, and CAMS Australian GT Trophy Series," read a statement from the championship.
"Trofeo Motorsport has been a supplier and competitor in Australian GT for a number of years, and is excited to become more deeply involved with Australian GT.
"A number of new initiatives will be developed throughout the remainder of the 2018 season and planning for an exciting 2019 schedule is already well underway.
"Trofeo Motorsport wishes to acknowledge the contribution former rights holder Tony Quinn has made to Australian GT, and looks forward to a bright and competitive future for the category.
"Immediate focus however is on the upcoming Red Rooster Sydney SuperNight, which will see the CAMS Australian GT Championship host its penultimate round on August 3 to 4.
"Australian GT then heads to Winton for the CAMS Australian GT Trophy Series finale in September with Hampton Downs hosting the final round of the CAMS Australian Endurance and Australian GT Championships in October."
The Confederation of Australian Motor Sport (CAMS) is expected to make an official announcement in the coming days.