Quinn confirms completion of Australian GT takeover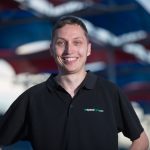 Confirmation of the Australian GT Championship's new owners is expected to be formally announced next week.
Former series boss Tony Quinn confirmed to Speedcafe.com that he has completed the sale of the category to businessman and racer Jim Manolios and his Trofeo Motorsport empire.
Trofeo is the official importer of the championship's control Pirelli tyres for Australia.
A formal announcement from the Confederation of Australian Motor Sport (CAMS) is likely to be made on Monday according to the governing body.
Australian GT's current management team of Ken and Margaret Collier are set to remain in their roles under the new ownership model.
Quinn has been in control of the Australian GT Championship since purchasing the series for $250,000 in 2011.
Supercars attempted to take over Australian GT last year only for its bid to collapse at the final hurdle after failing to receive the green light from CAMS.
The Scottish businessman is confident the championship will enjoy a bright future under its new owners and will be on hand to advise the series should his input be required.
"It is not just me but Ken and the team of guys that have stuck with it have done a marvellous job," Quinn told Speedcafe.com.
"I think Jim, Ken and the team will continue with the good work and I think he has got a few good ideas for the calendar next year.
"I think Jim with guidance from Ken and Supercars will do a good job.
"I have put my hat in the ring to say if there is anything they want me to do then and that is free of charge."
Quinn has confirmed that he will continue race in Australian GT for the next three years at least which was part of the deal.
"I will still be there for the next there years at least. I'm the oldest driver in the field and so long as I'm not getting in anybody's way I will continue to compete," he added.
He also confirmed that he has no plans to take up any further motorsport category management roles in addition to the Aussie Racing Cars series he currently owns.
"I've got no ambition in that area. I'm bit old for all that stuff," he said.
"My main focus now in motorsport apart from racing in Australian GT, I will do the odd Aussie Racing Cars thing, but I will be doing events like Pikes Peak.
"I'm quite happy and content."
The first task for Australian GT's new owners will be to formalise a calendar for next year.
It is understood Supercars has not been involved in the current ownership negotiations, although it would be open to the championship having a regular slot on its support bill moving forward.