Aston Martin returns to the Bathurst 12 Hour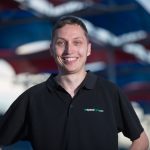 Aston Martin will be represented at next year's Liqui-Moly Bathurst 12 Hour following the confirmation of R-Motorsport's return to the event.
The Swiss squad is the first team to lodge an entry for the Mount Panorama endurance race held from January 31-February 3.
R-Motorsport will enter two 2018 specification Vantage GT3s to contest the top Class A with one set to join the professional class and the other earmarked for Pro/Am or the Am division.
This year the outfit has been contesting the Blancpain GT Endurance Series with a two car team that recently took out the second round of the series at Silverstone.
Team co-owners and racers Florian Kamelger and Andreas Baenziger first raced at the Bathurst 12 Hour in 2013 in a GT4 Vantage under the Aston Martin St. Gallen banner.
Rebranded R-Motorsport the team tackled finishes second in Class C in 2015 before returning to the event in 2017.
The operation's entry confirms that Aston Martin will be on the grid at Bathurst in 2019 after the marque was absent from this year's race.
"We are glad to be back at the Mountain," said Kamelger, R-Motorsport Team Principal.
"We have entered two Aston Martin Vantage V12 GT3s which proved to be very competitive in the first three races of this year's Blancpain GT Series Endurance Cup winning the second round at Silverstone.
"We are looking forward to competing in the Liqui-Moly Bathurst 12 Hours which is certainly one of the most important and challenging GT long distance races worldwide."
Bathurst 12 Hour event director Kurt Sakzewski is keen to see R-Motorsport tackle the top class for the first time.
"We are thrilled to welcome R-Motorsport back to Mount Panorama," said Sakzewski.
"They are a very professional outfit and their success in the Blancpain GT Endurance series this year is proof of that.
"The team has become a regular visitor to Bathurst and they have already had class success in the past. It will be great to watch them challenge for outright victory for the first time.
"Aston Martin's V12 Vantage GT3 entries are already hugely popular in Australia so we know they will be well supported by our fans."
Organisers have confirmed it will add an extra day of running and a fourth support class to the Bathurst 12 Hour event schedule next year.
This 2018 edition attracted a 53 car field for the once around the clock race that kicked off the Intercontinental GT Challenge.