Winterbottom: One of the hardest days I've had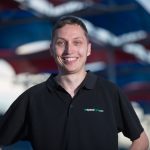 Mark Winterbottom declared he'd never driven a car which felt 'that bad' after struggling to finish just outside the top 10 in Race 18 at the Watpac Townsville 400.
After finishing sixth in the Saturday race, the 2015 series champion struggled for outright pace as he came home in 12th position behind team-mates Chaz Mostert fifth and Cam Waters in ninth, while Richie Stanaway finished in 20th spot.
Such was the extent of the performance shortfall on Winterbottom's car both driver and team suspect it could have been damaged during a melee at Turn 2 on the opening lap.
Winterbottom was alongside Nissan Motorsport's Simona de Silvestro when she tagged team-mate Michael Caruso into a spin as the field attempted to navigate through the tight right hander.
The Ford driver radioed the team on the opening lap to report a knock in the rear of the car.
"We'll put it on the patch first and have a look. I haven't driven anything that bad to be honest," said Winterbottom post-race on Supercars Trackside.
"I expected to come out with a bent (steering) arm or something, bit of contact at Turn 1, Lap 1. Until you patch it you can't really read into if it's the true set-up.
"It won't be going back in the car, but if it's bent then how do you judge a car with bent bits?
"We'll do that first, re-evaluate, get some good data; yesterday (Saturday) was a good day for us, but, that was one of the hardest days I've had in the car. Tough day, but anyway, it is what it is."
Tickford Racing boss Tim Edwards is hopeful that once the car is stripped an answer to his driver's lack of pace will be revealed.
"Frosty didn't have the car speed today and neither did Richie but certainly in Frosty's case and maybe Richie, Frosty sustained damage at that Turn 2 incident on the first lap.
"He came on the radio straight away and if we don't find something there when we pull the car apart I would be very surprised.
"It was largely the same car he raced the day before, we hadn't reinvented the wheel overnight, but it was a different car in the race so we hope to find something bent on it to explain the pace of that car.
"We had a bent suspension arm on Saturday.
"This track is pretty hard and we saw Macauley (Jones in Super2) hit the kerbs and it can break dampers. If you hit the kerb slightly the wrong way it can tweak the suspension arms."
Meanwhile, there was some positivity for Mostert who recorded his best finish since Race 9 at Phillip Island, as he benefitted from a far better handling car when compared to his package at previous events.
It also arrived after a frustrating run on Saturday that was compounded by an unfortunate double stack in the pits behind Winterbottom.
"We didn't really help ourselves with our starting position, but I'm really happy to get a top five result, it's definitely been a while," said Mostert.
"The car was pretty good in yesterday's (Saturday) race. It still needs a bit of a tune-up but (it's) a lot better than what it has been.
"We struggled in qualifying this weekend. The car feels better on full tanks, trying to wrestle it around the track, so we need to understand why that is, and try to get some more direction for that in qualifying and keep moving forward.
"I don't think it's the silver bullet, but the car is reacting to changes, it's turning better than what it did at the start of the year, and the car's more driveable.
"Yesterday really bummed me out. That was a real kick in the nuts, but overall, good to give the guys a top five result. It has been pretty low times, so to get a top five I'm happy for the guys."
Casting the issues for Winterbottom and Stanaway aside, Edwards believes his squad is finding its direction after claiming its first top five since the former's podium at Barbagallo Raceway in May.
"We are definitely finding some direction but we are not there yet," added Edwards.
"It wasn't just a top five (for Mostert) but it was actually the speed he had throughout the race.
"The two (Triple Eight) cars at the front were definitely the class of the field but his race pace was better than everyone else but what let him down is where we qualified."
The squad will head to Queensland Raceway for the Coates Hire Ipswich SuperSprint from July 20-22.