Lowndes relieved after emotional Townsville 400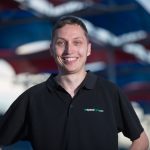 Craig Lowndes admitted it was difficult to battle emotions at times knowing he was contesting his final Townsville Supercars outing.
Lowndes surprised both fans and the paddock by announcing plans to step down as a full-time driver at the end of the season on the eve of the Watpac Townsville 400.
Despite having to deal with a multitude of emotions, the Triple Eight driver showed his class to deliver a pair of fourth place finishes to boost his hopes of bowing out on a high with a fourth title.
Reflecting on the weekend, the 44-year-old said emotions were running high behind the wheel but was glad for the racing to take centre stage following such a pivotal moment in his career.
"I think (I'm) probably more relieved now, (it was) very emotional, obviously made the announcement and then had to turn around, put a helmet on and go out for the first practice session," said Lowndes.
"It was difficult in the beginning. You sort of drive the car out sort of knowing that this was going to be your last time here and you sort of go through all of those emotions and thoughts.
"But once you've got through the first couple of laps you're back into race trim, Irish (race engineer John McGregor) is saying we're going to a bit of roll centre or what our first change was, but once you start getting into that mindset, it was pretty easy.
"Obviously, (it was) difficult because you're still high on emotions of what we announced, but I think we did a good job.
"There's no doubt that the car had good pace over the weekend, which was good.
"We're going to make sure that if we go out at the end of the year, we go out on a high. We're still going to try and be competitive."
The announcement sparked an outpouring of emotion from fans with some travelling extraordinary distances to see Lowndes race a Supercars in Townsville one last time.
Speaking to the fans in between sessions brought the confirmation of his future plans home.
"I think it (the announcement) was more a factor of going from the transporter to the garage each time when you're going through the fans and they're reminding you of what you've just announced," he added.
"One part of it is difficult because you've got to keep a mindset of what you're going into, but at the same time it's really appreciative, and that's why I said thank you to the fans because they are the backbone of motor racing.
"They've been a great supporter of us, we hopefully have given them something back in the sense of why we do what we do, but it's nice to see the support.
"I think that some people are surprised, we had some people today that said they had driven six, eight hours to be here today because of the announcement.
"The big common thing is people think I'm walking away completely. I'm not walking away completely, I'm just walking away from the full-time driving. I'm (still) going to be around the pits."
Lowndes had a strong possibility of snaring the final place on the podium in Sunday's race after reeling in Scott McLaughlin  before the second round of pit stops.
However, an overfill of fuel in the pits appeared to cost the #888 Commodore the chance leapfrog the championship leader into third.
Team owner Roland Dane confirmed there was an error in the stop but believes it didn't affect the ultimate outcome for his driver in the race.
"It was an error but I don't think it would cost him a place he was always going to come out behind Scotty because he had more fuel to put in," Dane told Speedcafe.com.
"He had a second or so more fuel to put it but unfortunately it took probably another two seconds of fuel over what it needed to be.
"The problem the gauges which everyone goes by flicker and occasionally everyone up and down pit lane has made an error with that.
"I don't think it cost him a position because he still would have had to pass Scotty.
"He (Craig) has had a really good weekend with two fourth places and it's 100 percent on merit."
Lowndes occupies fifth in the standings with a 431 point margin to leader Scott McLaughlin heading into the Coates Hire Ipswich SuperSprint from July 20-22.