Davison critical of 'stupid drivers' after Race 18 heartbreak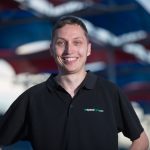 Will Davison took aim at 'poor form' from 'pretty stupid' drivers after late race clashes scuppered a possible top 10 finish in Race 18 at the Watpac Townsville 400.
The Milwaukee Racing driver was occupying 10th in the closing stages before a Safety Car restart sparked two fractious incidents.
Davison copped a hit from Tekno Autosports' Jack Le Brocq while attempting a pass at Turn 3 on Lap 66 that resulted in the former being pushed sideways and falling to 14th spot.
Matters were made worse for Davison when Garry Rogers Motorsport's James Golding made contact with his Falcon at Turn 6 on the following lap that ultimately sent him hard into the wall and out of the race.
Both incidents were investigated by the stewards which saw Le Brocq cop a 15 second post race penalty that dropped him from 11th to 18th.
Golding escaped a penalty after officials deemed neither driver was wholly or predominately to blame for the clash.
"Two rookies in the space of two laps," said Davison.
"You work your guts off for 66 laps and then the Safety Car causes all of that. Pretty stupid drivers, pretty poor form from them.
"We were just hanging on in P9 or P10, and the Safety Car wasn't ideal for us because our tyres weren't in good condition.
"On the restart Le Brocq tried to pass me at Turn 3 and nearly spun me out, he hit me pretty hard. It's pretty ridiculous to be honest. He was in a good spot, I didn't expect it.
"From then on I was like a ping-pong ball.
"My tyres were gone, I got hit by a few cars on fresher tyres coming through. I was literally just trying to bring it home.
"I was really surprised after the damage he (Le Brocq) did to his car yesterday (on Saturday). That was a huge hit on the right rear, and then he hit me on the right front and tore both our cars up.
"Golding was racing somebody and he got into the back of me at Turn 2, Turn 3, then he was next to me at Turn 5. I knew he was on the outside, but I didn't think he's be able to hang there in the marbles.
"I left him a bit of room but I don't know what he was thinking.
"I'm just shattered, shattered to finish the weekend with a crashed car. It's just unnecessary damage, which these young blokes seem to do for a hobby."
Le Brocq admitted he was at a fault for the clash before revealing an intention to apologise to Davison for his actions.
"We came together at Turn 3, so it's a totally separate incident to him and Golding. It's one of those things, Safety Cars seem to do these sorts of things," said Le Brocq post-race.
"It's my fault, I got in the side of Will. I tried to get out of it at the last minute, but it was all too late. I got him out of place and knocked him. I'll shoot him a message to apologise. But it's one of those things. It's a shame to end like that."
Meanwhile, Davison is hopeful the damage to his car is not too serious.
"It doesn't look too bad luckily," said Davison.
"Most of it is cosmetic. We'll put it on the patch now, hopefully all the main suspension stuff is okay."
The Supercars Championship will remain in Queensland for the Coates Hire Ipswich SuperSprint from July 20-22.