Skaife: I don't think Whincup can retain title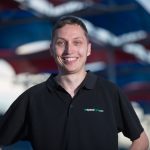 Five-time Supercars champion Mark Skaife believes Jamie Whincup will be unable to retain his crown this year.
The touring car legend turned Fox Sports television pundit feels the seven-time champion is too far behind to overhaul his rivals after an inconsistent first half of the season.
Whincup has fallen 433 points adrift of leader Scott McLaughlin with Shane van Gisbergen (Red Bull Holden Racing Team) the nearest challenger albeit 161 points behind the Shell V-Power Racing driver.
While the season has only reached the halfway point, Skaife is predicting the title will be fought out between McLaughlin and van Gisbergen.
Whincup, who is fifth in the standings, has come from behind to win title before having lifted the 2014 crown with a round to spare after facing a deficit of 213 points.
However, no driver has been able to overturn a margin as large as 433 points to win the Supercars championship.
"To me, the battle in the championship is van Gisbergen versus McLaughlin at the moment," said Skaife at Fox Sports' Watpac Townsville 400 launch.
"Where Jamie is, almost one and a half rounds behind, 430 odd points away, that's going to be tough for him to win from here.
"In my heart of hearts you obviously don't want to be too negative, but I don't think he can win from there.
"When you put all that into perspective, those big races like Bathurst, any of the 300 point days like Bathurst or Sydney Motorsport Park in the night, they're going to be very impactful in the journey to the championship.
"I mean the (Triple Eight) team and their strategies and their ability to win the big races is unheard of.
"They're a very well credentialed, well disciplined team, but I still think if you look at the raw numbers and the way the two teams are operating, it's going to be a McLaughlin/van Gisbergen battle and it's going to be interesting to see how Dave Reynolds goes as a bit of an interloper.
"We started thinking that they're (Reynolds and Erebus Motorsport) punching above their weight but they're too much at the pointy to end all the time to be saying that. They're genuine contenders."
It is not a view shared by fellow Fox Sports pundit Russell Ingall, who believes Whincup shouldn't be written off.
"I still think he can actually get in there," said Ingall on Fox Sports' show Supercars Trackside.
"But he has to turn up this weekend to do it; he has to have at least a win or a couple of wins.
"If he comes out here with a good result, don't discount the boy because look how good he is at Bathurst. Man, he's still super fast, so if he has a good result here, game on."
Whincup is not panicking about the points deficit in the title race, although the champion admits his challenge could be hanging by a thread if he fails to perform at this weekend's Watpac Townsville 400.
"I think mentally these weekends are important, this weekend in particular for me being so far behind, it's really important for us to steady the ship, starting hitting our straps and get some good results," said Whincup.
"If I get any chance this year, I've got to perform this weekend. If we don't perform this weekend we're going to let it go. (I'm) pretty motivated to do a good job."
Whincup will be aiming to reignite his title hopes when the Townsville 400 begins today with opening practice scheduled for 1125 AEST.