FEATURE: TCR touring car platform explained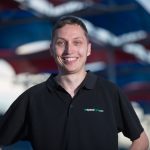 As Australia prepares to welcome TCR to its shores next year, Speedcafe.com has produced a guide to explain the growing touring car platform.
What is TCR?
TCR simply stands for 'Touring Car Racing' and is the brainchild of former World Touring Car Championship promoter Marcello Lotti.
The Italian created the TCR set of regulations with the aim of producing a cost effective touring car class while still involving manufacturers.
Lotti tapped into the successful GT3 racing model that has attracted multiple manufacturers to create cars to be sold to customers and raced all over the world.
The TCR formula is based around production-based turbo-charged two litre, four cylinder, front wheel drive hatchbacks and sedans.
In 2015 the category successfully launched and has since been adopted all over the world, culminating in the formation of several international and national series.
TCR Regulations
Eligible cars: 4/5-door vehicles
Body shell: Reinforced production body shell; wheel arch modifications allowed to accommodate tyres
Minimum weight: 1250kg for cars with production gearbox, 1285kg for cars with racing gearbox (both including the driver)
Minimum overall length: 4.20 metres
Maximum overall width: 1.95 metres
Engine: Turbo-charged petrol or diesel up to 2.0-litre
Torque: 420Nm
Power: 260kW
Lubrication: Wet sump
Exhaust: Homologated catalytic converter using production parts
Traction: On two wheels
Gearbox: Production or TCR International Series sequential; production paddle shift accepted
Front Suspension: Production lay-out; parts free design

Rear Suspension: Original design of production car with reinforced components
Brakes:
Front: maximum 6 piston calipers, brake discs maximum diameter 380mm
Rear: maximum 2 piston callipers; production ABS accepted
Wheels: Maximum dimensions of rim: 10″ x 18″
Series/Championships
This year TCR regulations have been adopted by the World Touring Car Championship, which is now known as WTCR.
There are currently regional series in Europe, Asia and the Middle East alongside national championships in Belgium/Luxembourg, China, Germany, Italy, Korea, Portugal, Russia, Scandinavia, Switzerland, Thailand and the UK.
Grid sizes vary from 20 plus to under 10 cars in the case of the UK series, which has struggled to take off.
Manufacturers/Cars
The TCR platform has seen 14 manufacturers develop bespoke race cars to compete in the category.
Homologated marques/cars include; Audi (RS3 LMS TCR), SEAT (Leon TCR), Volkswagen (Golf GTi TCR), Ford (Focus TCR), Alfa Romeo (Giulietta TCR), Honda (Civic Type R TCR), Kia (Cee'd GT TCR), Lada (Vesta TCR), Opel (Astra TCR), Peugeot (308 TCR), Renault (Megane TCR), Hyundai (i30N TCR) and Subaru (WRX STi TCR).
Cost
A TCR race car costs in the region of $200,000 excluding spares. Customers can expect cars to be imported to Australia within 10 days depending on the manufacturer.
TCR Australia
In January the Confederation of Australian Motor Sport (CAMS) signed a five-year agreement with WSC Ltd to run a national TCR category.
CAMS has since identified a promoter to run TCR Australia in the form of Australian Racing Group (ARG) headed up by former Supercars managing director Matt Braid.
The ARG group features a consortium of Australian businessmen including Brian Boyd (PAYCE) and John McMellan (Wilson Security), who are behind the Super5000.
CAMS is expected to formally announce the promoters once the final pieces of the contract are completed.
TCR Australia has set the target of racing in 2019 but has made it clear the category is not a rival to Supercars but a feeder series.
A six to eight race calendar has been touted with promoters aiming to split its events 50/50 across the Shannons Nationals and Supercars.
Informal contact has been made with Supercars but discussions regarding TCR featuring on the support bill at race meetings are yet to be held.
Interest   
Several manufacturers are keeping a watching brief on TCR Australia's plans.
Audi and Hyundai have indicated their interest in becoming involved in the category.
Tentative talks have been held with Audi Australia while Victorian operation Melbourne Performance Centre has secured the rights to import and run Volkwswagen Audi Group cars.
Audi sent an example of its RS3 LMS TCR car to Australia last year.
Hyundai sees the class as a way of leveraging its i30 N road car given the TCR car is based around the model.
Subaru is also closely following TCR Australia's plans.