Supercars aims to do more to facilitate manufacturer deals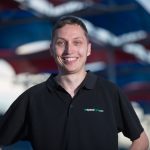 Supercars can play more of a role in bringing new manufacturers to the championship in future instead of the burden being on teams to secure alliances, according to series boss Sean Seamer.
Traditionally Supercars has been active in facilitating the arrival of new manufacturers into the sport, but ultimately it has come down to the teams to engineer deals with marques.
Supercars' new CEO has put a focus on fostering relationship with car makers as the sport prepares to usher in its next wave of regulations in 2022.
The championship has been proactive with its current rules to ensure Supercars is attractive to all prospective marques and is continuing to explore all avenues to remain relevant to the needs of brands.
Last week the sport confirmed plans to investigate hybrid technology for its Next Generation regulations following a request from manufacturers.
However, Seamer believes the category can do more to help teams attract lucrative manufacturer alliances.
"I think there is an opportunity for us to improve the way that we embrace and work with manufacturers as a sport and not putting that reliance on the team entirely," said Seamer.
"And it's something that I'm looking at at the moment, and I have been very active in discussions with all manufacturers since I've started because we have to provide the platform, as I say, for them to extract as much value out of the sport as possible.
"We need to be easy to interface with, and that's not something that we should just pass onto the teams. It shouldn't all be on the teams."
Although confident the championship will welcome new manufacturers in the future, Seamer insists that the series and its teams can sustain itself without the financial clout car brands bring to the sport.
The championship currently operates with two factory teams in Holden and Nissan although the latter will end its factory program with Kelly Racing at the end of the year.
However, Ford will have a much larger presence in 2019 with the arrival of the new Mustang.
"I think that you can see through all motorsport throughout the world that different manufacturers participate at different times, and I think that that's something that we should continue to see," Seamer added.
"The teams are all fully sustainable operating business models unto themselves, so working with manufacturers on the IP and the configurations of the car that their teams run is a relatively simple exercise.
"It's not a commercial requirement.
"What's key for us is relevance and making sure that that appeals to both our existing fan base but potential fan base as well.
"So our manufacturer relationships are about the relevance of what goes racing out on the track rather than it being a financial requirement to sustain the sport."