Kelly: Supercars could have done more to help Altima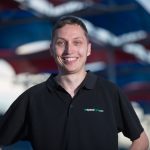 Kelly Racing owner Todd Kelly and former Supercars Commission chairman Mark Skaife believe the category could have done more to help Nissan be competitive when it re-joined Australian touring car racing in 2013.
This week the Japanese manufacturer announced plans to leave Supercars at the end of the season after a six-year works program with Kelly Racing that has yielded two wins and a further 11 podiums to date.
Nissan took advantage of Car of The Future (COTF) regulations to join the category in 2013, but faced a struggle to achieve both engine and aerodynamic parity.
While Kelly says Supercars were accomodating to allow the Altima to undergo a re-homologation of its engine and aero, more could have been done on to help the brand match then rivals Holden and Ford in the power stakes.
Nissan entered the sport using a production-based VK56DE engine which was reported to be 40 horsepower down compared to those of rivals Ford and Holden.
As a result, it required extensive development undertaken by Kelly Racing, which even saw bespoke components made in Mexico.
Speaking on Fox Sports' Supercars Trackside, Kelly believes the Altima package is only now starting to perform to its best following years spent on development.
"I still would have gone ahead and did what we did but I think as a category we were very ambitious to bring a road car-based engine in against race engines and the Car of the Future," said Kelly when asked if he would make any changes given the chance to start the project again.
"Everyone had a massive push when the engine power limit came in, in particular and raised the bar again, and we were left sitting there with a hell of a job to get this package to where it is.
"We were having to design and get purpose-built cylinder heads cast in Mexico and all these things just to catch up.
"There was enough support to allow us to re-homologate the engine every time but there was really no avenue to do anything other than follow the existing rules and try and match the incumbents, which was a huge task.
"At the end of the day, a lot of the performance or lack of through the period was us just being solely focused on the R&D of the engine in particular, not actually worrying about setting the car up and things that other teams are (doing).
"It's only really now that we've got our package to the point where we can realign a lot of our team's energy, day-to-day, on race prep and what set-up are we putting in the car, rather than looking at designing new components."
When asked if the bar set by Holden and Fords purpose designed engines was too high for Nissan to reach, Kelly said. "One hundred percent."
Skaife, who played a pivotal role in the introduction of the COTF rules, confirmed there were plans from the category to equalise engine power which ultimately failed to eventuate.
"That's factual, that's not just a Todd Kelly view of the world," Skaife said on Supercars Trackside.
"At the time when Todd got involved in the project, we wanted to bring the horsepower back by about 15 or 20 horsepower, which would have been a different control camshaft that was going to be fitted to all cars.
"And unanimously – we (Todd Kelly) sat in the same meetings – at that time they all decided to leave it as it was; no one wanted to give any horsepower away.
"So that would have made it much easier for Nissan to meet that threshold, that's factual."
While the move could have made Nissan more competitive, it is unlikely to have changed the marque's decision to leave after citing a change in the company's marketing direction and strategy for its exit.
"No," said Kelly when asked if better results would have seen Nissan continue in Supercars.
"Dealing with them over this period, there's a lot of things other than the position the cars finish on the track.
"That's a part of it, but what it's done for the brand … The amount of people that came out of the woodwork — which blew me away — wearing Nissan gear, Skaifey's old gear, a whole new breed of fan came back into our sport.
"These are all massive things for the sport. So there was huge benefit for Nissan to ride on the back of all that.
"Their return on investment for the marketing side of it, the social media side of it, all that stuff is non-existent without motorsport.
"Every aspect of this program was a huge success for what they achieved versus what they invested in it.
"Everybody gets hung up on how many race wins you've had, but in the scheme of motorsport and what all of our corporate partners and fans want to see, it's actually not as much as you think."