Bamber eager for Winton Supercars run after Nurburgring 24H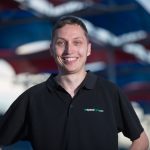 Earl Bamber will swap racing in the Nurburgring 24 Hours for Winton as he awaits his first real taste of a V8 Supercar as preparation for a maiden Pirtek Enduro Cup campaign steps up.
The two-time Le Mans 24 Hours winner will partner Shane van Gisbergen at the Red Bull Holden Racing Team for this year's enduros, and will drive the #97 Commodore for the first time in Friday's 30 minute additional driver session.
Bamber's only previous experience of a Supercar came via a test at Queensland Raceway in a Stone Brothers Racing Ford in 2010.
The Winton run out has seen the 27-year-old fly from Germany, after contesting the Nurburgring 24 Hours last weekend, to Australia for what will be an important practice session.
The Kiwi's Nurburgring outing ended in disappointment when team-mate Romain Dumas crashed the #911 Manthey Porsche while leading just shy of the halfway mark at the notorious Nordschleife.
"I really can't wait to jump inside the car. I'm super excited to get my first real taste of a V8 Supercar," Bamber told Speedcafe.com.
"Obviously Winton I don't know so well either so it will be interesting to try that and get up to speed, as it will be a few months before I drive one again.
"It is about learning as there is a whole lot of processes, I will be sitting on the other side and all sorts of different things. It is just about getting familiar and working with the team.
"I would say it (going from Nurburgring to Winton) is an unusual combination but I'm also lucky with the amount of driving miles I have coming up.
"I think from now until Bathurst I will be a driving a car every week, two or three times a week."
While Friday will be Bamber's first laps in a current Supercar, the New Zealander has been preparing for the moment using data and onboard videos from Triple Eight to help learn the Winton layout.
The factory Porsche driver has also tapped into the knowledge of Craig Lowndes' former Triple Eight race engineer Jeromy Moore, who now works for Porsche Motorsport in Germany.
Bamber also visited the Triple Eight workshop back in February to familiarise himself with the team and cockpit of the car.
"I have got all the stuff from the team and data from Shane and an (onboard) video (from Winton). It is a good reference," he said.
"I've been picking Jeromy Moore's brain quite a bit as he sits in the office with us too.
"I went to the team ages ago so I already know about the set-up on the car and seat inserts, so I come well prepared."
He also believes that being able to watch from the sidelines throughout the Winton weekend will prove to be just as beneficial as driving.
"In the end it is just a bit of familiarisation," he added.
"I think probably that is more beneficial than the session is. To be there to sit and watch and learn about what the team is doing and how they are going about it will be helpful."
Bamber will jump behind the wheel on Friday at 1005 AEST.